The Week at World's End – at a glance
The School Reading Lists' five word review: rich period detail entirely believable.
Children's book title: The Week at World's End.
Children's author: Emma Carroll.
Genre: middle-grade historical fiction.
Published by: Faber Children's.
ISBN: 9780571364435
Recommended for children aged: 10-12
This edition published: Hardback September 2021.
This children's book is ideal for: class reading in years 6-8.
---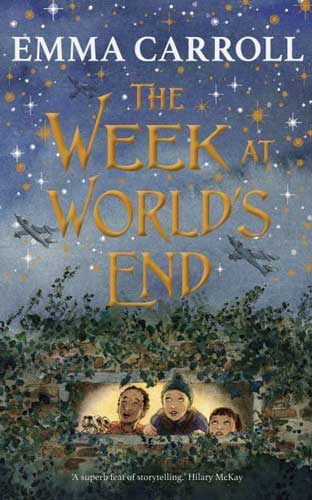 To see the latest price or order, click on the book cover image.
---
Our review:
Emma Carroll has constructed a tense and absorbing story centred around the events of October 1962, when the world waited to see if we would all make it through to November.
We did in the end. I was twelve at the time. I don't remember feeling much alarm, probably because, like the youngsters in this book, I was protected from the truth about what could happen. I remember standing with my classmates outside the Craft Block at school, waiting to start Double Metalwork, and all of us looking up at a plane flying very high in the clear Autumn sky. 'Do you think that's the one ?' someone asked. 'No homework this weekend if it is,' replied someone else.
A joke very like this can be found in The Week At World's End.
Another personal resonance: one of my uncles was present when 'our' bomb was tested at Christmas Island in 1957. It passed the test but he was never completely well for the rest of his life and died of multiple organ failure aged sixty.
I understood the true horror of what might have happened only some years later when I saw the film The War Game, directed by Peter Watkins in 1964. It was commissioned by the BBC, who then refused to show it because it was so shocking. In the years following you could only see it if you formed your own film club and hired the print for private viewing, mostly in church halls.
This novel, apart from being a compelling read with a satisfying conclusion, is rich in period detail: the intricacies of the old money system, the blandness (as it seems to us now) of daily life, hardly anyone owning a telephone, only two TV channels and, most of all, the way your educational 'opportunities' could affect your life and how you saw yourself.
All the characters are vivid and entirely believable. We care about what happens to them, and to the world they live in. I would recommend it to anyone who wants to give a class in Years 6, 7 or 8 a nourishing and stimulating reading experience.
Many thanks to Faber Children's for the review copy.
If you like The Week at World's End by Emma Carroll you might also like: our list of The Ash House by Angharad Walker, Musical Truth by Jeffrey Boakye, Time School: We Will Honour Them by Nikki Young, On the Move Poems About Migration by Michael Rosen, The Pear Affair by Judith Eagle and Adventure in Athens by Caroline Lawrence.
---
Browse more year 6 books