Time School: We Will Honour Them – at a glance
The School Reading Lists' five word review: pacey, gripping, time travelling, adventure.
Children's book title: Time School – We Will Honour Them.
Children's author: Nikki Young.
Genre: Middle-grade children's fiction.
Published by: Hashtag Press.
ISBN: 9781916286443
Recommended for children aged: 9-12.
First published: Paperback September 2020.
This children's book is ideal for: Lower KS3 school libraries and Year 7 bubbles.
---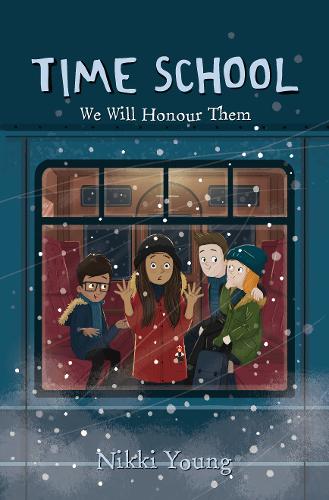 To see the latest price or order, click on the book cover image.
---
Our review:
This is another exciting time-travel outing for Nadia, Jess, Tomma and Ash, this time finding themselves in their school back in the winter of 1947 and saving Nadia's grandfather from an uncertain fate.
This book had three strong resonances for me personally.
I lived through the truly awful winter of 1963, which was just as severe as the winter of 1947. At school, instead of games, we were forced to clear three-feet drifts from the hilly drive up to the main school buildings. The head was a casual sadist who took a keen pleasure in caning boys on the merest pretext. (Once for whistling in the corridor outside his office – I kid you not.) On the playing field was a hut where Bruno, the Polish groundsman, could always be found. In exchange for a couple of Woodbines he let us smoke there and told us dramatic tales of life under the Soviet government, and the mortal dangers he and his family would face if he ever dared to return. Oh, and my younger brother was bullied unmercifully until me and my mates Tez and Jeff had a strong word with his tormenters.
So Nicki Young's pacy, gripping story was a bit like reading an old diary.
Our verdict
There was also plenty for a Year 7 class to get their mental and emotional teeth into. What might happen if you really could meet your ancestors? How difficult is daily life for your teachers, and how could you help them? And what regrets and sadnesses might be in store if you don't notice others now, and think of them, while there is still time?
If you like this book you might also like Time School: We Will Remember Them by Nikki Young, After the War by Tom Palmer, The Good Thieves by Katherine Rundell, Letters from the Lighthouse by Emma Carroll and Time Travelling with a Hamster by Ross Welford.
---
Why not have a look at our books for KS2 or books for KS3?
Please respect copyright and don't copy or reproduce our content. Sharing on social media or linking to our site's pages is fine. Thanks.