Musical Truth. A History of Modern Black Britain in 28 Songs – at a glance
The School Reading Lists' five word review: inspirational cultural social history music.
Children's book title: Musical Truth. A History of Modern Black Britain in 28 Songs.
Children's author: Jeffrey Boakye.
Genre: Children's nonfiction.
Illustrated by: Ngadi Smart.
Published by: Faber Childrens.
ISBN: 9780571366484
Recommended for children aged: 11+.
First published: Hardback June 2021.
This YA book is ideal for: pupils in KS3 and KS4.
---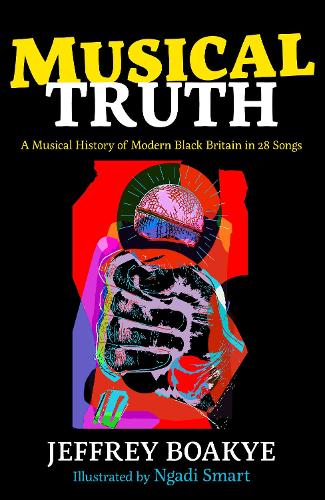 To see the latest price or order, click on the book cover image.
---
In this 28 chapter hardback, academic and teacher Jeffrey Boakye explores Black history in the UK since 1948 through a diverse collection of songs that help define and illuminate key moments in cultural and social history. Tracks and events include the calypso London is the Place for Me by Lord Kitchener (The Windrush), Sonny's Lettah by Linton Kwesi Johnson (discrimination), Pass the Dutchie by Musical Youth (Birmingham's rich and multicultural musical history), Cockney Translation by Smiley Culture (police brutality), Back to Life by Soul II Soul (Black culture) and Black and Ready by Jords (Black Lives Matter).
Each chapter invites children to think about and reconsider events they may or may not have learned about in school, watched on YouTube or TV or read about in fiction or textbooks. This book encourages children to review and reconsider the historical events, societal change and politics that underpins these songs, to help them form their own opinions. While a context for debate and thought is set, the reader is encouraged to be independent and the non-fiction narrative will help them form their own opinions. Nowhere is the reader patronised or dictated to, and this nuance will lead to refreshing and genuine discourse in KS4 books clubs, PSHE or English lessons.
Using music from the past or even the near past as a teaching point can be a hit and miss affair if your pupils value their epoch above anything that preceded it. Occasionally, as an English teacher, I used to spice up teaching Wuthering Heights with a dose of Kate Bush. Reactions ranged from full-bodied artistic empathy to complete frozen bewilderment. At least with the latter, behaviour targets were met. Context is key, and the playlist from Musical Truth helps provide colour and atmosphere to this taut and cogent collection of social history essays.
Many of the artists could be explored further either in English or PSHE lessons – for example, Eddy Grant: with his songs Electric Avenue (the subject of chapter 9), Police on My Back, , I Don't Wanna Dance about rejecting class and racial division, and Gimme Hope Jo'anna about apartheid in South Africa.
Cockney Translation is an excellent choice to analyse not just for content, and social history, but also for its use of dialects and accents and how the audience might interpret these. Pupils could explore how some words only rhyme with particular accents, and not with others. They might examine how some accents elicit particular reactions in some parts of the country and not others, and how accents can be unfairly perceived to be attached to a particular social class. Teachers might develop a unit on this theme, with other songs that rely on accents, or particular narrators, such as Sunshine on Leith by The Proclaimers, Southern Accents by Tom Petty, The Keeper by Show of Hands or Dry Your Eyes by The Streets. Teachers could look at the poem Toads by Philip Larkin and how it subtly alters in meaning when read with a thick East Yorkshire brogue. For KS2 teachers, BBC Bitesize has some ideas for teaching using dialect in writing and poems.
Sonny's Lettah by Linton Kwesi Johnson could be used in a range of lessons – from literacy in KS3, KS4 poetry studies or PSHE. The text could be used as an interesting and more extreme counterpoint to Telephone Conversation by Wole Soyinka – written a generation earlier; which might further inspire pupils to think about they would express their own experiences in the 2020s.
Ghost Town by The Specials tells a story of deprivation, unemployment and depression – not as dystopia, but as the reality of 1980s Britain. Comparison for creative writing could be made with the inertia of lockdown, post-Brexit, climate-changing and inward-looking England of today. In the same vein as Ghost Town, UB40's One in Ten looks at similar urban problems in Birmingham, which would neatly segue into Pass the Dutchie by Musical Youth – an interesting song to explore in the way that it made its child bandmates TV, radio and magazine stars overnight with a sudden and ubiquitous exposure that is very comparable to viral YouTube sensations today.
There's an inspirational documentary produced by Sky Arts that explores the narrative and urban history that planted the seed for Soul to Soul's seminal album Club Classics Volume 1. It's well worth watching after reading chapter 13 and might help students consider how and why music triggers memories and how music can evoke a powerful social message.
Musical Truth is a unique book that could help today's pupils engage with not just the music of their parents and grandparents, but their histories, experiences and stories. Not only that but there's an opportunity for pupils to explain their own music as part of a connected and wider social narrative.

Watch the music videos here
This book helps to explain to the reader why things were the way they were. It uses music judiciously to evoke emotion, a sense of place and explain context and nuances to different generations while avoiding hindsight or applying today's values or sensibilities. The format is a winner, and, in terms of a piece of writing, structurally infectious. In 'Musical Truth' the subject is Black British history, but for a pupil, their chosen thesis to explore using that same format might be gender, place, religion, deprivation, isolation, alienation, or sexuality.
Similarly, this format could be used to explore the experiences of older relatives or different periods in history. It's a Sin made great use of a soundtrack with songs such as Smalltown Boy, Who Wants to Live Forever and Oh L'Amour to transport viewers who remember being gay in the 1980s back to that mental place of frisson and fear. Or the subject might be the miner's strike, the troubles in Northern Ireland, 9/11, Brexit or 2020s lockdown. Whatever the movement, music is unrelenting able to summon atmosphere beyond words on a page.
How to use this book in your teaching
"Young people need to be able to honestly express their fears and their thoughts and their reactions. And as a teacher you can't just leave that to random chat in the playground—you actually have to create spaces where you can talk about these things"
From an interview in The Bookseller
As a framework for ideas and creative writing impetus:
Pupils could create their own "musical truths" – projects that combine music to define their place and space in the world, and words to capture their voice in society.
Musical Truth is a textually useful impetus to add bite to review writing and ARC-style literacy units in KS3. There is a lot of potential to provoke talk, both in the classroom and at home, by using the format developed in this book. For example, pupils might discuss the music that reflects their social history and circumstances with classmates, older siblings, or vertical tutor groups. At home, there's the potential for intergenerational involvement – comparing the music that defined the teenage years of their parents, aunts and uncles, and grandparents.
Personal experiences lived through music often possess a powerful and universal resonance that isn't always replicated in prose or photography. I often listen to "Musical Youth", a segment in Trevor Nelson's Rhythm Nation, in which people describe pivotal points in their life through a song. Even if it's not a familiar artist or favourite song, the combination of words and period music always seem to evoke technicolour flashes of that time.
Using music to transport the writer and reader to a particular atmosphere or time in their life is an interesting device to explore with teens in KS4. Aware that an era – their formal schooling – is ending, there is already an almost timetabled period of reflection that could be used to capture thoughts, writing and media that define their lives and experiences. And it's not just music that could be included – with the wealth of media, clips, videos, TikTok's, podcasts, samples, imagery and archival material on the internet; today's teens could define their lives in immersive, permanent and multimedia ways.
Teens might want to explore pivotal moments in their generation's society – with lockdown, BLM, climate change activism, Brexit, and the greatest sense of polarisation and conviction politics since the 1980s.
Now, what teenager, in any era, wouldn't want to create a multimedia scrapbook soundtrack of their life experiences peppered with biography, review, political statement, angst, a sense of history and self?
---
Although this book is aimed at secondary aged children, teachers will want to check school policies. Spotify, iTunes or Amazon Music flag which songs contain explicit lyrics – this is useful to know before playing these tracks to a class.
Our verdict
This accessible, lively and informative book is ideal for KS3 and KS4 aged pupils who want to explore modern British Black history through musical history. It's also an ideal starting point for personal writing projects in KS4.
Many thanks to Faber Children's for the review copy.
If you like this book you might also like Britannica All New Children's Encyclopedia, Everyone Dies Famous in a Small Town by Bonnie-Sue Hitchcock, Challenge Everything by Blue Sandford and The Missing by Michael Rosen
---
You might also be interested in our list of newspapers for teens and our recommended books for children and teens aged 11-16.
Please respect copyright and don't copy or reproduce our content. Sharing on social media or linking to our site's pages is fine. Thanks.