The Pear Affair – at a glance
The School Reading Lists' five word review: middle grade rollicking good yarn.
Children's book title: The Pear Affair.
Children's author: Judith Eagle
Illustrator: Kim Geyer.
Genre: Middle grade fiction.
Published by: Faber & Faber
ISBN: 9780571346851
Recommended for children aged: 9-12.
First published: Paperback, March 2020.
The Pear Affair would be an ideal class reader for Year 5 or 6 in KS2.
---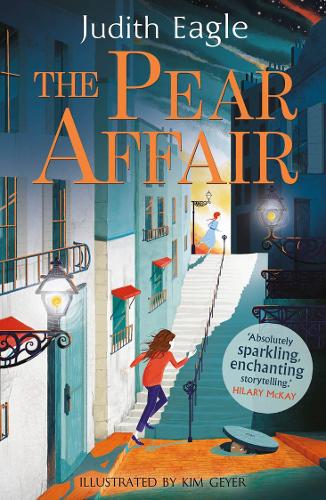 To see the latest price or order, click on the book cover image.
---
Our review:
All English teachers in Middle Schools have a recurring nightmare. They open the stockroom and there, gathering dust in a far corner, is a stack of about 40 paperback novels. They were intended to absorb, amuse and perhaps enlighten a whole class of 9-11 year-olds. But that novel, which promised so much, was opened only once. The boys didn't like it. Or the girls didn't like it. Perhaps nobody liked it. Most probably it simply couldn't be liked, by anybody, of any age. There might be two, three, even four such sorry piles, each reducing the precious department budget by £300 in today's money.
If that happens to anyone in the case of this novel I will personally refund the cost.
The story involves a quest. Nell Magnificent, whose rather unpleasant parents own a supermarket chain, Magnificent Foods, finds herself in Paris searching for her older friend Pear, who disappeared suddenly six months previously. She gathers around herself an eccentric band of youngsters who earn precarious livings in hotels, fashion sweat-shops and the streets of Belleville. It's the Sixties. Such things were possible then. It also means there are no mobiles or computers to make chases, searches and mysterious things of the past. Some characters are not who they seem and even Nell and Pear discover in the end that their real lives do not match what they have always been told.
Behind this personal story there is a larger narrative involving a conspiracy to ruin the boulangeries of Paris and bring the food industry to a standstill.
Paris itself is a significant character; its teeming streets, its buildings, its people, its smells, all combine to provide a vivid backdrop to this perfectly-paced drama. Much of the action takes place in the network of tunnels, galleries and catacombs, a parallel world, which lies beneath the everyday surface.
Our verdict
The phrase 'a rollicking good yarn' appears to have dropped out of fashion in recent years, but if any book warrants its re-introduction, it's this one.
Many thanks to Faber & Faber for a review copy.
---
If you like The Pear Affair by Judith Eagle, you might also like Cogheart by Peter Bunzl, Orphans of the Tide by Struan Murray, Evernight by Ross MacKenzie, The Highland Falcon Thief by MG Leonard and Sam Sedgman, and Malamander by Thomas Taylor. We also have a great list of Year 6 books.
---
Read more reviews of new books for children