Against the Odds by Alastair Humphreys, illustrated by Pola Mai – at a glance
The School Reading Lists' five word review: Adventure, bravery, travel, history, exploration.
Children's book title: Against the Odds: The Incredible Struggles of 20 Great Adventurers.
Children's author: Alastair Humphreys.
Children's illustrator: Pola Mai.
Genre: True life adventures.
Published by: Templar Books.
ISBN: 9781787410169.
Recommended for children aged: 9-13 year-olds.
First published: Hardback July 2023.
This children's book is ideal for: Adventure fans.
---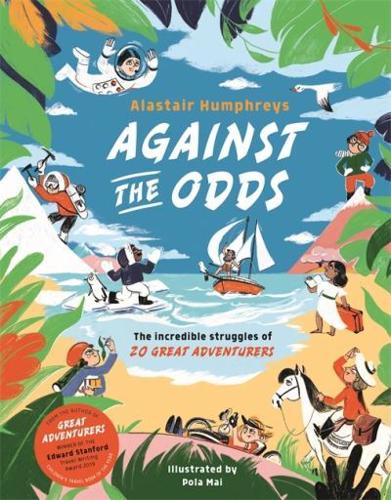 To see the latest price or order, click on the book cover image.
---
Our review:
This large format, lavishly illustrated collection tells the true stories of 20 adventurers whose globe-trotting trips didn't always go according to plan. The stories range from 14th-century China to the present-day UK, and from deep sea diving to space exploration.
Highlights include:
Robert Smalls, who escaped slavery during the American Civil War by sailing a Confederate boat into Union-controlled territory
Junko Tabei, who became the first woman to climb Mount Everest and went on to climb the highest mountains in 76 countries
Frank Wild of the Endurance expedition to Antarctica, who stayed behind with most of the crew when Shackleton went to get help
Not all adventures succeed. Or at least they don't always go to plan. Because the common factor in all the stories you're about to read is that when you battle against the odds, success comes in many forms.
The diversity of the adventurers featured gives a welcome touch of inclusivity compared to the traditional history books which tend to focus on white male explorers. As well as overcoming physical challenges, many of the adventurers had to navigate discrimination because of their gender, ethnicity or background. Their triumphs are inspiring and highlight the value of positivity and determination, even when the odds seem stacked against you.
Against the Odds challenges the notion of success. Not all of the adventures included succeeded in their original goal. Not all mountain tops are reached for example or records broken. Instead, the book encourages the reader to consider the individual stories, personal challenges and routes to happiness that have been achieved by those featured.
On your own journeys, you too will discover that you are capable of more than you realise and that an important part of living adventurously is to keep going against the odds.
The copious illustrations, comic strip features and chunked text make the book highly accessible and appealing for both confident and reluctant readers. Each explorer's story is covered in two double-page spreads, making the book easy to dip in and out of if readers want to focus on a particular story or region of the world. At the end of the book are tips for readers to have their own – safe – adventures and encouragement to try new things.
Against the Odds is an inspiring collection that will appeal to fans of the Rebel Girls books and readers who prefer non-fiction. As well as being highly engaging for reading for pleasure, the book would also be inspiring for class activities and creative writing prompts.
Many thanks to Templar Books for the review copy.
---
If you like Against the Odds by Alastair Humphreys, illustrated by Pola Mai you might also like: our reviews of Indiana Bones and the Invisible City by Harry Heape, Prehistoric Beasts by Dr Dean Lomax, illustrated by Mike Love, Tourmaline and the Island of Elsewhere by Ruth Lauren, Sports Legends: 50 Inspiring People by Rick Broadbent, Britannica All New Children's Encyclopedia edited by Christopher Lloyd, A Trip to the Future by Moira Butterfield and I Ate Sunshine For Breakfast by Michael Holland.
---
Browse our list of adventure stories for children.