Britannica All New Children's Encyclopedia – at a glance
The School Reading Lists' five word review: Thinking parent's children's Christmas present.
Children's book title: Britannica All New Children's Encyclopedia. What We Know and What We Don't.
Children's author: Christopher Lloyd.
Genre: Children's nonfiction.
Illustrated by: Mark Ruffle and Jack Tite.
Published by: Britannica Books.
ISBN: 9781912920471
Recommended for children aged: 9-16.
First published: Hardback October 2020.
This children's book is ideal for: Children's Christmas presents, classrooms, libraries, and schools.
---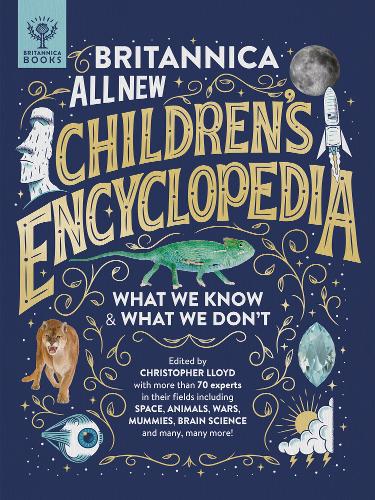 To see the latest price or order, click on the book cover image.
---
Our review:
The Britannica All New Children's Encyclopedia is a stunning achievement. The blend of engaging and high-quality imagery with thought-provoking chunks of history, science, and culture will challenge and inspire young readers.
Ideal for children who love to absorb facts, it will also entice those who want to find out more and yearn to understand the how and why of a topic.
The book presents topics with a thematic and chronological approach. Starting with the history of the universe, planet earth, and matter itself, and continuing to look at the evolution of life, human, and the history of civilisations and cultures. Modern times are examined across the planet from African empires in the 1300s up to present day decolonisation and civil rights. Perhaps the most interesting section, chapter 8 – today and tomorrow – looks at how inequality, climate change, fuel, the internet and media, AI, and extinction events could affect the human race for future generations.
The layout of each section has been carefully designed, with clear use of headings, white on black text, high contrast backgrounds, and vibrant labelled graphics and photography to ensure each page is compelling and will appeal to avid and reluctant readers alike.
For each topic, there's a timeline, a 'game changer' profile of a key figure in the development of knowledge in that field, a 'FACTastic!' snippet of interesting and important information, a "known unknown" to inspire children to think about what might be discovered next, a 'listified' box detailing key information, and a 'note from the expert' drawing on current leading academic authorities. At the end of each chapter, there's a multiple choice quiz section – ideal for fun competitions in class, or at home; or for schools that want to include the book as a text in an accelerated reading programme.
A particular strength of this encyclopedia is the diverse and representative range of present-day expert profiles and 'game-changer' historical figure commentaries, to inspire children from all backgrounds. These include Stephen Hawking, Marie Curie, Dorothy Hodgkin, Sargon the Great, Confucius, Nelson Mandela, Queen Hatshepsut, Akbar the Great, Rana El Kaliouby, Albert Einstein; Roma Agrawal, Kimberley Jackson, Jean-Luc Ayitou, Dino Martins, Pravina Shukla, Salima Ikram, Katsuya Hirano, Joseph Inikori, Robtel Neajai Pailey, Etana Dinka, Taymiya Zaman and Jaise Kuriakose.
If you are a teacher using this book as a resource for topic-based teaching, there is a section at the bottom of each spread marked "see also", which details all the related fields. This is ideal to help both teachers who want to create curricular links and pupils who want to find out more about areas that interest them.
For teachers looking to embed Philosophy for Education into their practice, exploring the known unknowns feature of this book will be particularly useful. As well as known knowns, unknown knowns, and unknown unknowns, known unknowns form part of the Johari window  – a useful way of determining and exploring knowledge.  More recently popularised by Donald Rumsfeld, this series of statements is a great way for exploring children's beliefs and knowledge in practical situations and scenarios – particularly when discussing what we know, what is a universal truth, what is knowledge, what is supposition, what is proof, and how to ensure something is known? As we pass through an age of manipulation in politics, the media, and the workplace; children need to be equipped to detect facts not finaglers from an early age. This book helps educate children to be critical, confident, and independent-minded thinkers
"There are known knowns. There are things we know we know. We also know there are known unknowns. That is to say, we know there are some things we do not know. But there are also unknown unknowns, the ones we don't know we don't know."
– Donald Rumsfeld
This book is ideal for KS2 and KS3 libraries. In KS2 it would be hard to imagine a cross-curricular topic that isn't touched upon or explored in this encyclopedia. For KS3, concepts that are often difficult for pupils to grasp in science, technology, geography, and IT are presented with a deft clarity. More useful still is the incredible enthusiasm with which the information is conveyed – quite possibly guaranteeing a thirst for more knowledge.
In the classroom, this book will be a one-stop-shop to find out more, dip into during reading time, or inspire children who prefer to read or write about non-fiction – especially in classrooms or settings without internet access for research due to bubbles, home-learning or firewalls.
In literacy and English lessons, there's the added benefit of an extensive index, glossary; and source notes and credits. Schools teaching dry word level activities such as using alphabetical order, or more in-depth text-based activities such as studying and creating glossaries could definitely enliven and extend activities using this encyclopedia.
For the whole school, why not place a copy of this book in each classroom and later challenge pupils to test their knowledge? Editor Christopher Lloyd has created an innovative Zoom powered virtual live quiz for schools. Perfect for bubbles and social distancing, this quiz offers the chance for schools to compete on a leaderboard – with prizes on offer in a grand finale. For family fun and children learning at home, there also a Britannica virtual family quiz show version.
Our verdict
The Britannica All New Children's Encyclopedia is not only perfect for the classroom, the school library, and for home learning – we think it's definitely the thinking parent's children's Christmas present for 2020.
Many thanks to Britannica Books for the review copy.
If you like this book you might also like Absolutely Everything by Christopher Lloyd, A Trip to the Future by Moira Butterfield, our list of non-fiction and topic books for primary school,  and our list of children's books for Christmas.
---
Why not have a look at our list of Newspapers for children or our collection of books for KS2?
Please respect copyright and don't copy or reproduce our content. Sharing on social media or linking to our site's pages is fine. Thanks.