A Trip to the Future – at a glance
The School Reading Lists' five word review: Realistic STEM blended with fiction.
Children's book title: A Trip to the Future. How today's science will shape tomorrow's world.
Children's author: Moira Butterfield and Fagostudio.
Genre: Children's nonfiction.
Illustrated by: Fagostudio.
Published by: Templar Publishing.
ISBN: 9781787415751
Recommended for children aged: 7-11, and reluctant readers in KS3.
First published: Hardback July 2020.
This children's book is ideal for: creative children, deep thinkers, and KS2 pupils interested in science.
---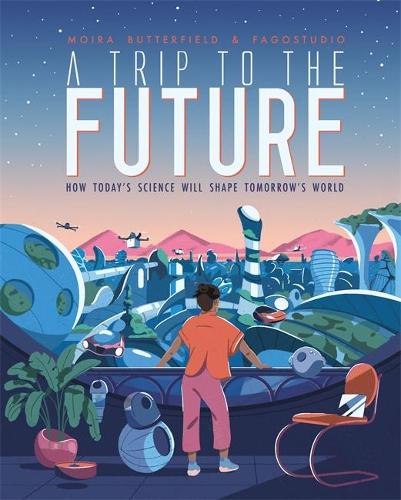 To see the latest price or order, click on the book cover image.
---
Our review:
This is a compelling hardback, packed with engaging graphics and well-presented information. 'A Trip to the Future' studies everyday nonfiction topics such as the home, eating out, a walk in the park, recycling, and transport.  It projects a fictional crystal ball of the future, but with every aspect firmly rooted in a factual present. It's like a brightly illustrated  'Tomorrow's World' for children – a realistic and convincing what-if guide to life in the next fifty years.
This unique approach – which blends STEM and fiction – is bound to appeal to children in upper KS2 aged 9-11. Unlike many science or tech themed books for children, this one doesn't limit itself to dry detail. There's a more holistic and cultural approach – life in the future is examined, framed through the lens of an observant child. Fashion, shopping, gardening, and hotel stays are given equal weight with the more traditional science-fiction fare of high tech elevators, space travel, hovercars, and medical advances.
A great strength of this book is that every futuristic idea is grounded in current science – and this is subtly signposted in the text. The more thoughtful child will be able to take these hints and develop their own understanding and ideas, grounded by fact and reasoning.
The book also asks how advances might affect society. Will androids eventually make humans uncomfortable? Will technology harm the authenticity of sport? Will we, and should we, be able to bring back extinct animals? Moira Butterfield provides a great opportunity to lead pupils into philosophical ideas either for home learning or P4C (Philosophy for Children) lessons at school. Ideas that might also inspire older children to try science fiction classics, for example, A Wrinkle in Time by Madeleine L'Engle, I Robot by Isaac Asimov or Do Androids Dream of Electric Sheep by Philip K Dick.
The colourful, artwork, graphics, and snappy labelling will appeal to children who like Star Wars, Star Trek, and Ready Player One, etc.
Using A Trip to the Future in the classroom
This book is ideal for posing and provoking STEM and philosophical questions in classroom discussions.
The familiar settings, for example, the school classroom, the modern home, and futuristic sports, are perfect starting points for inspiring pupils' creative writing or argumentative essays – either in English lessons or for home-learning projects. The non-fiction style of the book provides a useful counterpoint to science fiction texts – and one that will make the topic accessible to reluctant writers.
The citizenship and societal themes – such as floating homes to counter climate change, bionic parts for people with disabilities, and the prospect of decoding peoples' brains and thoughts, provide ideal talking points.  There's plenty of material to plan debates, and wonderful opportunities to elicit a high standard of oracy. For home learning, this book is excellent for posing the question: What will happen if?
Our verdict
This is an interesting text that will appeal to children aged 7-11 and also reluctant readers in KS3. 'A Trip to the Future' will challenge pupils to think, imagine, be creative, and look for solutions – all of which can be expressed in creative writing, oracy – in the form of debates, short films for home-learning or deeper philosophical argument in persuasive writing.
Many thanks to Templar Books for the review copy.
If you like this book you might also like Amazing Islands by Sabrina Weiss, Future Architect's Handbook by Barbara Beck, Our Planet by Matt Whyman and Richard Jones, Here We Are: Notes for Living on Planet Earth by Oliver Jeffers and Where We Once Stood by Christopher Riley and Martin Impey.
---
Why not have a look at our magazines for children and our collection of topics books.
Please respect copyright and don't copy or reproduce our content. Sharing on social media or linking to our site's pages is fine. Thanks.