Tourmaline and the Island of Elsewhere by Ruth Lauren – at a glance
The School Reading Lists' five word review: Magical, friendship affirming, rescue mission.
Children's book title: Tourmaline and the Island of Elsewhere.
Children's author: Ruth Lauren.
Genre: Fantasy adventure.
Published by: Little Tiger.
ISBN: 9781788955911.
Recommended for children aged: 9-12 year olds.
First published: Paperback March 2023.
This children's book is ideal for: 9-12 year olds who enjoy reading about strong female protagonists and learning about themselves as well as the importance of having good friends.
---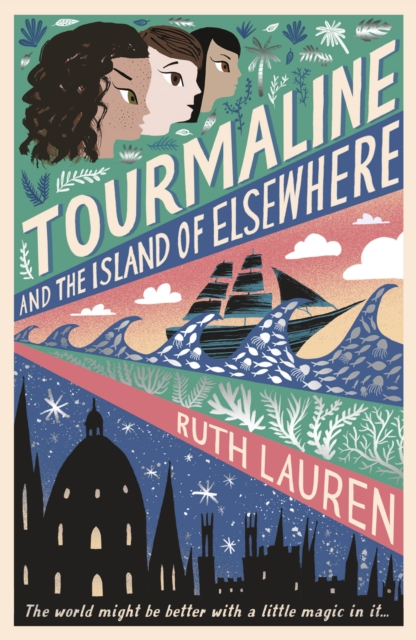 To see the latest price or order, click on the book cover image.
---
Our review:
Tourmaline is the twelve-year-old daughter of renowned archaeologist Professor Persephone Grey who collects artefacts for Pellavere University. She's spent her entire life in its hallowed halls alongside best friend George, whose mother Faiza Gramercy, is the Dean. She is used to her mum disappearing for weeks on end, but this time things are different.
Eavesdropping on private conversations is rarely a good idea. This time it results in Tourmaline discovering Persephone has disappeared and the school has no intention of searching for her! With George and new student Mai in tow, she sets off on the adventure of a lifetime, which will take them across oceans and continents as they hunt for her mother and find out a great deal about themselves in the process.
This character-driven novel has just enough magic and fantasy to steer the journey in the right direction but it is the dynamic between the main protagonists which is the central theme of this storyline. Tourmaline is strong, feisty, and loyal, while George is a boy who likes his home comforts and doesn't consider adventure something worth chasing. Mai, the newest member of their elite group of professors' children, can be cutting, even haughty, but as is often the case the outer shell hides a very different centre as is about to become clear.
Our verdict:
This is a fascinating page-turner that draws readers in quickly and succeeds in making them care about all those involved. Set in a fantasy world similar to our own – it is never stated where the story is actually set – young readers will easily accept the subtle differences.
Suitable for confident readers in the lower half of the 9-12 age bracket, it will also strike a chord with older middle-grade students who struggle to find the good in themselves that others already see. Reading this novel with Year 5 and above could be a useful precursor to class discussions on friendship, family, and inner feelings, and also to explore how children would react in a magical setting.
As the first in a new series, Tourmaline and the Island of Elsewhere is an excellent introduction – with just a little hint at the end as to what might happen next. Highly recommended.
Many thanks to Little Tiger  for the review copy.
---
If you like Tourmaline and the Island of Elsewhere by Ruth Lauren you might also like: our reviews of Xanthe & the Ruby Crown by Jasbinder Bilan, Wildoak by C.C. Harrington, The Rescue of Ravenwood by Natasha Farrant, Rita Wong and the Jade Mask by Mark Jones, The Magician's Map by Mikki Lish and Kelly Ngai and Another Twist in the Tale by Catherine Bruton.
---
Browse our list of books for KS2