A Case of Grave Danger – at a glance
The School Reading Lists' five word review: first person high quality mystery.
Children's book title: A Case of Grave Danger (The Violet Veil Mysteries).
Children's author: Sophie Cleverly.
Children's illustrator: Hannah Peck.
Genre: Middle-grade fiction.
Published by: Harper Collins Childen's Books.
ISBN: 9780008297350
Recommended for children aged: 9-12.
First published: Paperback January 2021.
This children's book is ideal for: independent readers in upper Key Stage 2 and lower Key Stage 3.
---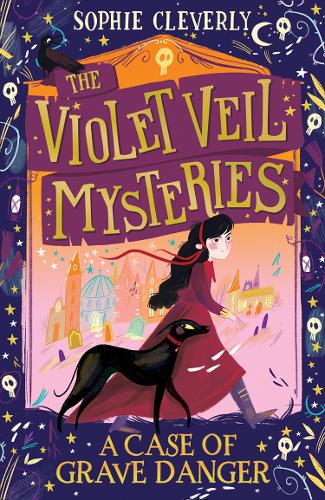 To see the latest price or order, click on the book cover image.
---
Our review:
"The dead know nothing, the living know that they will die."
So we are told by Violet Veil, the thirteen-year-old heroine of Sophie Cleverly's first Violet Veil Mystery. Violet is the daughter of an undertaker and was born in the mortuary of the family business "Edgar D. Veil and Sons Ltd. Undertakers" and Violet's opening words set the tone for the rest of the book, "I was born in the mortuary. Topsy – turvy, I know, but that's the truth of it. My mother said the slab was cold and hard, but that she was in no fit state to quarrel at the time."
The story is told exclusively in the first person singular – everything is seen and heard through Violet's eyes and ears and as the plot progresses we share her world of coffins, graveyards, ghosts and death. Violet and her detective buddies – Oliver, a young man who just escapes the grave by the skin of his teeth, and Bones, her black greyhound – keep the action moving swiftly as they set about solving the murders at the heart of the story.

Listen to an audio sample of A Case of Grave Danger by Sophie Cleverly, read by Emma Noakes
As I was reading the book a few things crossed my mind. How will the book be received at a time of global pandemic when daily death rates are announced each tea time? Will the young readers and their parents be upset by the ghoulish content? Sophie Cleverly creates an age-appropriate gothic, mid-Victorian world that is completely convincing and peopled with engaging characters. The quality of the writing is at times excellent.
Violet explains to Oliver that she can communicate with the ghosts of her family. "You can…. hear the dead?" He asked… " Yes" …. "So what's it like?" … "A feeling….I think people leave echoes when they go. You can't drop a stone in a river without making ripples. I think perhaps I can feel the ripples". This takes us into an area that could easily topple over into bathos but in fact, adds another dimension to the story. Sophie Cleverly manages to give Violet just the right words to articulate the experience, "A faint blue tinge spread across the darkness beneath my eyelids. The colour of mystery. I felt the rough stone under my fingertips crackle."
Strong family relationships are important. Violet's parents are loving and supportive but on many occasions, Violet declaims against her status in the family. Talking to Oliver she says …" Here's the thing. People look at you, or Thomas, or Father, and they see a person. They look at me and all they see is a girl ". The importance of women in society is a theme that runs throughout the book. Violet tells her father that the business should be changed to "Edgar Veil and Son and Daughter Ltd." But he only laughs and ruffles her hair. Violet is serious though – "Why shouldn't I be recognised as part of the family business just because I was a girl?"
This is the first in the Violet Veil Mysteries, a series that follows the highly successful "Scarlet and Ivy" sequence. The illustrations by Hannah Peck are suitably fiendish, in a high-quality Halloween way, and Sophie Cleverly thanks her for bringing "it all to life!" She also tells us that the book was written partially to help her deal with loss and that it was enlightening and empowering to live through the character of Violet who faces death daily without ever losing her sense of self or purpose.
At the end of the story Violet reminds us that she was born in a mortuary and that one day she will die there and she tells us a truth that we all need to grasp:
"It's what's in between that counts." Life is indeed, precious.
Sophie Cleverly has created in Violet Veil a character with the potential for many more adventures and I do not doubt that she will return to haunt us very soon to solve more mysteries of this world and the next.
Many thanks to Harper Collins Children's books for the review copy.
If you like A Case of Grave Danger by Sophie Cleverly you might also like: Time School by Nikki Young, The Pearl in the Ice by Cathryn Constable,  Another Twist in the Tale by Catherine Bruton, Voyage of the Sparrowhawk by Natasha Farrant, The Pear Affair by Judith Eagle and our list of recommended year 5 books.
---
Browse more books for KS2 or why not have a look at our year 5 books?