Time School – at a glance
The School Reading Lists' five word review: action, mystery, humour, everyday detail.
Children's book title: Time School – We Will Remember Them.
Children's author: Nikki Young.
Genre: Middle-grade children's fiction.
Published by: Hashtag Press.
ISBN: 9781916161764
Recommended for children aged: 9-12.
First published: Paperback March 2020.
This children's book is ideal for: Class reading and books clubs in Year 6 or Year 7.
---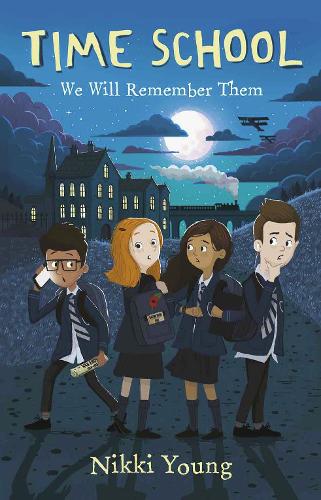 To see the latest price or order, click on the book cover image.
---
Our review:
Jess, Nadia, Ash and Tomma are friends in Year 7 at Hickley School. One day they find themselves transported back to the same school at the time of the Armistice in 1918. They realise that their 'spirits' are present in the school at both times, so they fit in with the old place and are not missed in 2020. After various encounters and one hugely dramatic incident, they arrive back home and see that their journey, and for Jess in particular, has had a larger purpose.
Readers of a time-travel story are already meeting the author half-way when they open the book in the first place, but they will always be keen to see how the portal-scene is managed. Nikki Young achieves this difficult task with a plausible fluency and with a filmic economy. There is genuine suspense: will they be able to get back (twice) and will anyone survive the possible disaster on the railway track?
But this is more than a gripping tale. There is a lot to think about and discuss regarding the past, the people in it and the hardships and deprivations they had to suffer.
Our verdict
There is plenty of 'nourishment' here to satisfy a Year 7 group: action, mystery, humour, everyday detail and even a hint of romance. Two chapters provide more than enough to chew over in a half-hour lesson.
If you like this book you might also like Tom's Midnight Garden by Philippa Pearce, The Secret Lake by Karen Inglis, A Sea of Stars by Kate Maryon, A Stitch in Time by Penelope Lively and Time Travelling with a Hamster by Ross Welford.
---
Why not have a look at our books for KS2 or books for KS3?
Please respect copyright and don't copy or reproduce our content. Sharing on social media or linking to our site's pages is fine. Thanks.