The Pearl in the Ice – at a glance
The School Reading Lists' five word review: Fantasy, mystery, spies, and lies.
Children's book title: The Pearl in the Ice.
Children's author: Cathryn Constable.
Genre: Middle-Grade fiction: adventure/mystery.
Published by: Chicken House Books
Recommended for children aged: 10-13.
ISBN: 9781912626519
First published: Paperback, November 2019.
This children's book is ideal for: group and class reading in upper KS2 and lower KS3, and using as an impetus for creative writing in lower KS3.
---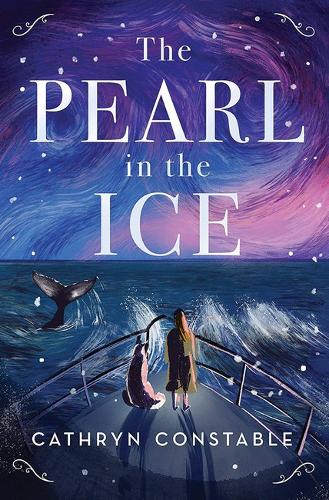 To see the latest price or order, click on the book cover image.
---
Our review:
This middle-grade novel is an interesting entwinement of realism and fantasy with a pacey mystery plot and a quest to find the truth. Told through the eyes of Marina, a 12-year-old girl who absconds to avoid a grim boarding school and instead stows away on a Navy ship commanded by her father, this book also explores themes of independence, identity and coming of age.
Marina finds out quickly that her father has a double life when she is thrust into a captivating world of spies and codes and travels to a strange place where submarines roam, otherworldly creatures live and ships vanish without a trace.
Cathryn Constable spins a delicious atmosphere of suspicion and deceit. Snippets of the puzzle are carefully and tantalisingly revealed to the reader – and only at the end does everything fit neatly into place.
The relentless pace and narrative questions would make this a good class reader for Year 7 or high ability Year 6s.
Teachers will make use of the rich language and inventive turns of phrase – sea imagery abounds, and dreams are 'plump', and pupils will be gripped by the tightly woven plot which ramps up to a satisfying ending.
There are lots of narrative points to discuss in English lessons, and this would make an excellent book to discuss indirect characterisation and potential 'what happens next' scenarios at the end of each chapter.
For book groups, this would be a good choice to read alongside War Horse – to compare and contrast Marina and Albert regarding growing up, adulthood and wanting greater independence.
In terms of creative writing, this novel is a useful impetus for discussing dialogue style in terms of driving the narrative and revealing character. The transformation/dream sequence at the end of chapter three would be particularly interesting to discuss and model with pupils.
Our verdict
The Pearl in the Ice will appeal to children who are just starting to consider and question their position in the world and challenge their parents' insistence to always 'know best'. We think the inventive and fast-paced cocktail of fantasy, reality, and shocking discovery will make this a hit with upper primary and lower secondary pupils.
Many thanks to Chicken House Books for a review copy.
---
If you like this book you might also like The White Tower by Cathryn Constable, The Starless Sea by Erin Morgenstern, Feathertide by Beth Cartwright, Fly By Night by Frances Hardinge or The Island at the End of Everything by Kiran Millwood Hargrave.
---
Why not have a look at our suggested reading lists for children aged 3-16?
Books for EYFS & ReceptionBooks for Year 1Books for Year 2Books for Year 3Books for Year 4Books for Year 5Books for Year 6Books for Year 7Books for Year 8Books for Year 9Books for Year 10Books for Year 11
Please respect copyright and don't copy or reproduce our content. Sharing on social media or linking to our site's pages is fine. Thanks. This page was first published on Oct, 29 2019 and last updated on Oct 30, 2019 @ 11:10 am.