Voyage of the Sparrowhawk – at a glance
The School Reading Lists' five word review: hope for a better future.
YA book title: Voyage of the Sparrowhawk.
Children's author: Natasha Farrant.
Genre: Middle grade fiction.
Published by: Faber Children's.
ISBN: 9780571348763
Recommended for children aged: 9-11.
First published: Paperback June 2020.
This children's book is ideal for: discussion and exploration with a class of curious readers aged nine to eleven.
---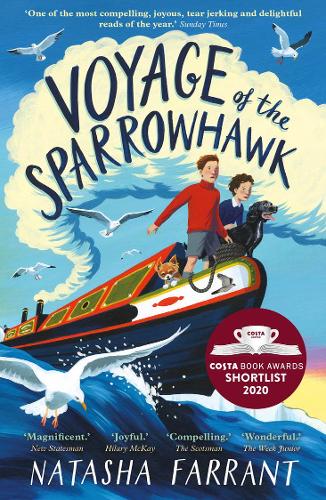 To see the latest price or order, click on the book cover image.
---
Our review:
Until August 1914 a sensible, law-abiding Englishman
could pass through life and hardly notice the existence of
the state, beyond the post office and the policeman.
This opening sentence of A J P Taylor's English History 1914-1945 (or something like it,) must often occur to anyone who walks alongside, or travels on, the revitalised and beautiful canal system of today. It is like being in a peaceful parallel world, separate and yet connected every few miles with the mad noise of our lives now.
Natasha Farrant's superb and original story starts in 1919, barely six months after the end of the First World War, just as society is beginning to realise that children need to be protected from those who might exploit or neglect them.
Ben is a four-year-old orphan when he is taken in by Sam, seven years older, and Nathan, owner of a canal boat called The Sparrowhawk. Some years later Sam is lost in the war and Nathan goes to France in a bid to find him. Left alone, Ben is eventually joined by another orphan, Lotti, lately expelled from school and living with her hated uncle and aunt in the big house which was left to her by her parents. They each have a good reason to go to France, a country still in chaos after the war; Ben to find his 'brother' and Lotti to discover the truth about her beloved French grandmother.
Together with two dogs (soon to become seven) and pursued by a dogged policeman, they embark on a journey, sometimes idyllic, often perilous, along the canals to the Thames, out to sea, across the Channel and into France.
Other characters join and leave them along the way. Relationships develop. We see the reality of the consequences of war on individuals and a country.
Our verdict
I enjoyed this book tremendously. There is adventure, action and tension on every page. There is also plenty to discuss and explore with a class of curious readers aged nine to eleven: the dangers and joys of life for children at the time, the need for stability and laws, the mystery of adult behaviour at any time!
The outcome of their quest is supremely satisfying, reflecting both the sadness of a world shattered by tragedy and the firm hope for a better future.
Many thanks to Faber Children's books for the review copy.
If you like Voyage of the Sparrowhawk you might also like The Children of Castle Rock by Nathasha Farrant, Boywatching by Chloe Bennett, Look Both Ways by Jason Reynolds, The Princess Diaries by Meg Cabot and The Famous Five by Enid Blyton.
---
Why not have a look at our books for KS2 or books for KS3
Please respect copyright and don't copy or reproduce our content. Sharing on social media or linking to our site's pages is fine. Thanks.