Wildoak – at a glance
The School Reading Lists' five word review: Adventure, bravery, atmospheric, nature, sensitive.
Children's book title: Wildoak.
Children's author: C.C. Harrington.
Genre: Eco adventure.
Published by: Chicken House.
ISBN: 9781915026149.
Recommended for children aged: 8+
First published: Paperback January 2023.
This children's book is ideal for: KS2 & KS3 nature lovers.
---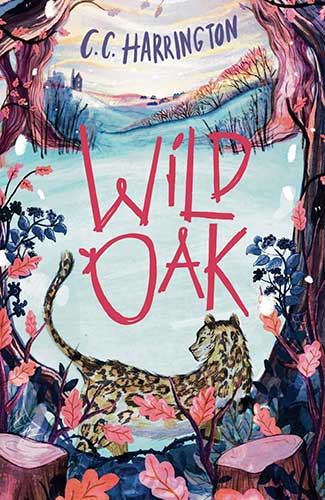 To see the latest price or order, click on the book cover image.
---
Our review:
Set in the Big Freeze of 1963, Wildoak tells of an unlikely friendship between a young girl and a snow leopard, two outcasts trying to find their place in an often unfriendly world.
Maggie has always struggled at school. She enjoys learning and wants to make friends but feels constantly held back by her severe stammer. She has become well-practised at avoiding situations where she has to speak in class or read out loud. But when one of her avoidance tactics results in her third expulsion in two years, her parents issue an ultimatum. She will be sent to Cornwall to stay with her Grandfather in the hope that the country air will 'cure' her. If not, she'll be sent to Granville Place, a residential treatment centre with a fearful reputation.
Why couldn't people see that none of this was a choice? … She stammered and couldn't help it, no matter what she tried to do or not do. Sometimes the words came out fine, but mostly they didn't.
Maggie is heartbroken at being sent away but it's her menagerie of pets that she misses the most as it's only when talking to animals that her stammer disappears and she can speak freely and fluently. Her Grandfather Fred turns out to be a kindred spirit, however. The village doctor and amateur inventor, Fred shares his granddaughter's love of nature and most importantly is kind and patient with her speech.
"The truth is… there's room in this beautiful, complicated world of ours for all of us. Just as we are. In fact, there is a need for it."
Out exploring the woods in the snow one day, Maggie is amazed to stumble across a snow leopard cub, caught in a cruel poacher's trap. Rumpus has been sold at Harrods department store, intended as a society pet but abandoned in the woods at the first sign of non-domesticated behaviour. Maggie nurses the cub back to health but when a plot is discovered to bulldoze Wildoak woods where Rumpus has made his home, Maggie realises that she must somehow find her voice in order to speak for those who cannot.
Wildoak is a gripping adventure story with a brave, independent protagonist. Told in alternating chapters from Maggie and Rumpus' point of view, the friendship between the two is touching while never mawkish. Rumpus remains a wild animal, albeit one born in captivity.
Rumpus picked his way between the trees, in search of another squirrel … His belly rumbled again. Just the thought of eating was enough to make his mouth water.
The historical setting gives insight into how far attitudes have thankfully come for those with speech and language difficulties. Realistically there is no 'magic cure' – Maggie still has a stammer but has learnt that her voice matters and that, like the acorns that eventually grew into the Wildoak forest, small beginnings can lead to great things.
"Our actions count. Our voices m-m-m-matter. We must use them."
Wildoak is a classic adventure story that will appeal to fans of Eva Ibbotson, Piers Torday and Lauren St John.
Many thanks to Chicken House for the review copy. There's also free sample chapter on the publisher's website.
---
If you like Wildoak by C.C. Harrington you might also like: our reviews of Stone by Finbar Hawkins, By Rowan and Yew by Melissa Harrison, Song of the Far Isles by Nicholas Bowling, By Ash, Oak and Thorn by Melissa Harrison, Darwin's Dragons by Lindsay Galvin, The Time Traveller and the Tiger by Tania Unsworth.
---
Browse our list of year 5 books.