Rita Wong and the Jade Mask – at a glance
The School Reading Lists' five word review: brilliant dreamlike hypnotic shadowy mystery.
Children's book title: Rita Wong and the Jade Mask.
Children's author: Mark Jones.
Genre: Young adult fiction.
Published by: Everything With Words
ISBN: 9781911427186
Recommended for children aged: 9+.
First published: Paperback September 2021.
This children's book is ideal for: independent readers in Y6, Y7 and Y8.
---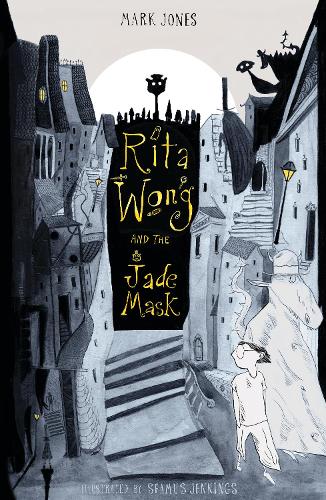 To see the latest price or order, click on the book cover image.
---
Our review:
So just imagine you are in your favourite coffee shop in Morecambe on a snowy, bitterly cold winter's day, with your head in a book about Art Deco, drinking a comforting hot chocolate whilst waiting for the library to open. All is fine, but then you notice through the window, something or someone, about eight feet high with a large bald head, bright green with a wide green tail with several sharp spikes.
What would you do? If you are like me you would probably rub your eyes and wonder what had been put in the hot chocolate and look again, but if you are Rita Wong your curiosity overrides your caution and you leave the coffee shop to follow the strange creature and engage him in conversation.
Rita catches up with the mysterious green figure at the seafront "staring out at the waters of the bay and across to the Lakeland fells" and in just a few words the author captures the beauty and magic of the seaside in winter:
"The Bayfront was encased in pure white snow. A small bench was icily dressed with a winter's topping and comfortable only for a snowman."
The creature is (of course!) a dragon and his name is Lester Thyme and he is a real dragon – "Lester is it? My name is Rita. Can I ask, are you a real dragon?"… "Well of course I am!" and Lester moves his tail from left to right to prove it, and so the highly unlikely, but highly effective, detective duo of Wong and Thyme is born.
Then in a 2021 version of Alice chasing the white rabbit we are transported from Morecambe Bay to Neon City:
"There was a flash of blue light and a crack of thunder … Rita stopped dead in her tracks. Sunlight and snow had disappeared … she could feel the embrace of a hot tropical night ."
I would guess that Neon City is based upon the author's experience of life in the cities of the Far East – "In front of her hung a cluster of tall buildings. They were layered with neon signs in a dazzling array of blues, purples, reds and yellows. They contained logograms which Rita could not understand." and from now on you simply have to hold on to your seat, believe in the powerful magic of the storytelling, and you will be rewarded with a tale full of danger, mystery, subterfuge and lots of humour as this amazing story leads Wong and Thyme and the reader into a world that is enticingly scary and full of mind-bending surprises.
Already in the first chapter, 'A Bad Night at the Toy Shop', we have spent a few minutes in Neon City and have had a brief encounter with the book's principal villain, the top-hatted Ermington Snyde at the headquarters of the Baldness Acceptance Movement. Mr Snyde is more than capable of looking after himself – an angry, bald, nine-foot troll is dispatched with ease and by page four we know that Ermington Smythe is not to be trifled with but Rita and Lester are not to know this until they are deeply immersed in the "jagged carbon black shadows of Neon City".
The story now moves at a breakneck pace as Lester helps Rita (and the reader) make sense of the dark, twisting, crime-ridden streets of Neon City and its vampires, werewolves and monsters, but the short chapters help the reader to keep up with everything and we soon get accustomed to the fantastic kaleidoscopic array of characters and venues.
In the final chapter, Rita and Lester are relaxing in their newly decorated and smartly furnished office. Lester has just finished reading a Raymond Chandler novel –"Complicated, but worth another read. All of his books are like that." (!) when a large man enters the office and the next Wong and Smythe case is mooted. The large man wants no "bunglers or fools who sleepwalk." Lester nodded and replied, "We never sleep, and we can handle any case." "This is no ordinary case", the large man said, "This is a case of mystery, magic and circumstance. Come closer, I want to tell you all about it."
The writing has a dreamlike, almost hypnotic quality that works brilliantly for the world that Mark Jones has created and the cover and illustrations by Seamus Jennings capture the shadowy mystery and warm humour of the story beautifully. I read the book in two sittings on a couple of grey October afternoons and I was more than happy to leave behind my hot chocolate be transported to Neon City and its strange and whacky characters and I have a distinct feeling that the large man's case will become Mark Jones' second Rita and Lester detective story.
Many thanks to Everything With Words for the review copy.
If you like Rita Wong and the Jade Mask by Mark Jones you might also like: The Sister Who Ate Her Brothers by Jen Campbell, The Ash House by Angharad Walker, Song of the Far Isles by Nicholas Bowling, The Magician's Map by Mikki Lish and Kelly Ngai and The Marvellous Land of Snergs by Veronica Cossanteli.
---
Browse more books for Key Stage 3