The Taming of the Cat by Helen Cooper – at a glance
The School Reading Lists' five word review: Storytelling, unlikely friendship, collecting, bravery.
Children's book title: The Taming of the Cat.
Children's author: Helen Cooper.
Genre: Children's fiction/fantasy.
Published by: Faber Children's.
ISBN: 9780571376018.
Recommended for children aged: 9-12 year-olds.
First published: Hardback October 2023.
This children's book is ideal for: Discussing the power of storytelling.
---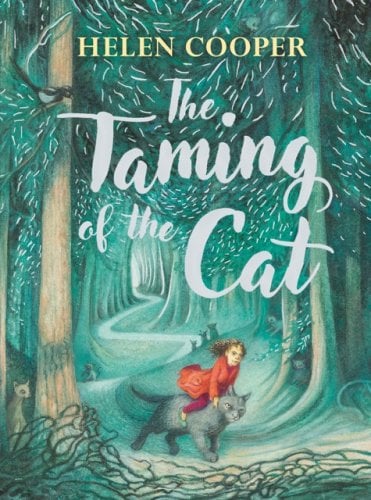 To see the latest price or order, click on the book cover image.
---
Our review:
Who wouldn't want to be a mouse living behind the skirting in a cheese shop? Finding such a dream location would surely be perfection for any rodent apart, that is, from our hero, Brie, who really isn't your everyday mouse! He prefers bread to cheese and keeps their labels whole to admire instead of shredded for extra winter warmth and comfort. He also loves to tell stories, mainly to the birds which gather nearby in the summer.
Unfortunately, the other mice think Brie is a bit weird and shun him which means as the weather gets colder, so does he. When he comes face to face with the shop cat, Gorgonzola, no one tries to save him and, left to his own devices, all Brie has to offer are his stories. As he begins to weave his tale he has no idea if it will keep the ruthless shop cat entertained or be destined to become his last story before he gets eaten!
Our verdict:
A story within a story is an idea which could easily fail, being too complicated or concentrated on only one of the tales. Thankfully this book does neither. It is illustrated by the author whose animal drawings especially, are beautifully done. Both Brie and Mimolette are sympathetically imagined as is Gorgonzola whose story arc works exceptionally well and was my favourite protagonist.
There is, within the story related by Brie, the death of a cat which could cause distress, especially as it comes without warning. Although it does move the plot forward, perhaps the same result could have been achieved without killing such an important protagonist.
Brie's life beyond the storytelling is well imagined and, as not everyone conforms to 'the norm' and not all heroes wear capes, it will be relatable to 9-12-year-old readers. His evolving friendship with Gorgonzola, which started as self-preservation, could easily be revisited should there be a follow-up, as the two characters work really well together. Mimolette's adventures are told in the style of a fantasy or fairy tale, and although both storylines would work well alone, together they are even better and provide a variety of topics to take further.
Teaching points and book club discussion ideas:
Discuss how stories are passed from generation to generation in a variety of locations.
Does anyone think either of these tales are similar to those which have become familiar either within families with regard to Brie's story or more widely in Mimolette's case?
Many thanks to Faber Children's for the review copy.
---
To order a class set of this book, please click below to order via uk.bookshop.org, an organisation that supports local bookshops, or Amazon.co.uk.
Buy from UK.Bookshop.Org Buy from Amazon.co.uk
Disclosure: If you buy books using the buttons above: we may earn a commission from Bookshop.org, whose fees support independent bookshops; as an Amazon Associate schoolreadinglist.co.uk earns from qualifying purchases.
---
If you like The Taming of the Cat by Helen Cooper you might also like: The Wolf Twins by Ewa Jozefkowicz, Peanut, Butter & Crackers: River Rescue by Paige Braddock, Finding Wonder by Lauren St John, An Anthology of Aesop's Animal Fables by Helen Ward, The Cartoons that Saved the World by Tom Ellen and White Fox in the Forest by Chen Jiatong.
---
Browse our lists of books for KS2