An Anthology of Aesop's Animal Fables: Unwitting Wisdom by Helen Ward – at a glance
The School Reading Lists' five word review: Traditional, nature, folk tales, animals, morals.
Children's book title: An Anthology of Aesop's Animal Fables: Unwitting Wisdom.
Children's author: Helen Ward.
Children's author: Helen Ward.
Genre: Classic fables.
Published by: Templar Books.
ISBN: 9781800786202.
Recommended for children aged: 6+ year olds.
First published: 2004.
This edition published: Paperback May 2023.
This children's book is ideal for: KS1+.
---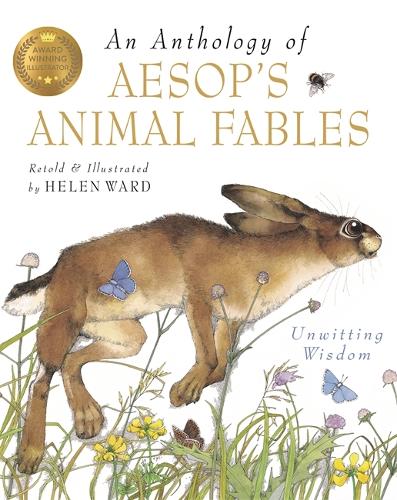 To see the latest price or order, click on the book cover image.
---
Our review:
Aesop's Fables remain among the most enduring of stories.
Part of our global cultural history, and over 2,500 years since they were first recorded, these stories remain as popular today as ever. Theories as to their origins range from a slave in 5th century BCE Greece, to an anthology of unattributed folk stories collected in a manner similar to Grimms' Fairy Tales.
The seeming simplicity of such tales as "The Lion and the Mouse" and "The Hare and the Tortoise" belies the strength of their underlying message, and the final moral once heard is seldom forgotten.
In this new edition, National Art Library Award winner Helen Ward has taken twelve of Aesop's animal tales and retold them for a new audience. Each one is stunningly illustrated with amazingly lifelike and detailed nature drawings.
Beginning with a fully illustrated title spread, each story is then told in entirety over a double page, making it a perfect book for early readers as well as a joy for adults to read aloud. The variations in font size and positioning give the book a playful, interactive feel that would lend itself well to being acted out.
Unlike some other versions of Aesop's tales, the morals here are implied rather than explicitly presented, with the reader free to discuss the rights and wrongs of each fable. The titles themselves highlight the theme and underlying message of the stories – Size isn't everything, Fool's gold, Hard cheese – and give indications as to how these narratives have become ingrained in our language and culture.
The collection includes both old favourites as well as lesser-known tales. There are steady tortoises and boastful hares, greedy dogs and brave mice. As the author notes in the introduction:
All use animals as the central characters in place of people, thereby avoiding the distractions of race or class, age or gender.
In doing so, Helen Ward has created a timeless edition of these beloved classics that will appeal to readers young and old. Children will delight in spotting the tiny details of the pictures such as miniature snails crawling up a plant stem or an ant's story told in tiny print as it meanders across the page. Adults will appreciate the range of characteristics presented, from greed and pride to bravery and perseverance.
An Anthology of Aesop's Animal Fables is a beautifully presented collection that is sure to inspire a love of both reading and nature in children of all ages.
Many thanks to Templar Books for the review copy.
---
If you like An Anthology of Aesop's Animal Fables by Helen Ward you might also like: our reviews of Old Toffer's Book of Consequential Dogs by Christopher Reid, Ten Little Dogs by Ruth Brown, Alte Zachen: Old Things by Ziggy Hanaor, Corey's Rock by Sita Brahmachari, I Ate Sunshine For Breakfast by Michael Holland and Poems the wind blew in by Karmelo C. Iribarren.
---
An Anthology of Aesop's Animal Fables is featured in our list of best books coming out in summer 2023 | Browse our list of books for KS1