Finding Wonder by Lauren St John – at a glance
The School Reading Lists' five word review: Horses, adventure, family, friendship, mystery.
Children's book title: Finding Wonder.
Children's author: Lauren St John.
Children's illustrators: Levi Pinfold (cover art) and Marie-Alice Harel (interior illustrations).
Genre: Adventure.
Published by: Faber Children's.
ISBN: 9780571376162.
Recommended for children aged: 9-12 year-olds.
First published: Paperback September 2023.
This children's book is ideal for: Animal and adventure lovers.
---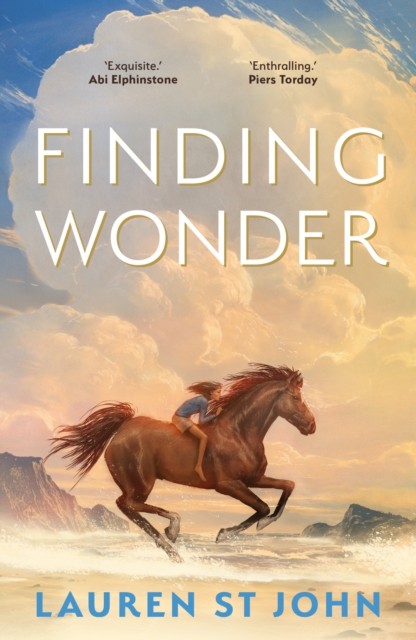 To see the latest price or order, click on the book cover image.
---
Our review:
Eleven-year-old Roo is mad about horses. Her bedroom walls are covered in horse posters. She dreams about show jumping. And even though she secretly worries that she's too old, she still stages Olympic events with her model horses over the living room furniture.
Life hasn't been easy since Roo's mum died. Her dad tries his best but spends more time in the pub than at work.
"When I win the lottery, everything will be different," he was always saying. "We'll get our lives back on track again. I'll buy you your dream horse."
When the police knock on the door in the early hours of the morning, Roo's chaotic but happy life is shattered forever. Her dad has dropped dead of a heart attack on the way to buying his latest lottery ticket.
With no other family, Roo is taken in by her free-spirited aunt Joni who is more familiar with travelling the world in a campervan than looking after a child. Roo's luck abruptly changes however when she finds her dad's last lottery ticket and it turns out it's won £1,000,000!
With her dad's will requiring that Roo enjoy the money now rather than save it for when she's older, Roo immediately begs her aunt to let her buy Wonder Boy, her dream horse that has just come up for sale. A visit to Wonder's stable confirms Roo's love of her perfect horse but before the sale can be completed, Wonder is stolen, leaving Roo shattered.
Joni is determined to help her niece and the pair set off on an epic campervan adventure to recover Wonder. As more prize-winning horses are stolen, Roo finds herself getting sucked into a tangled web of lies and deceit and is faced with a stark choice over how far she is willing to go to rescue her dream.
Words were just words. What grown-ups promised and what they did were two different things.
Finding Wonder is an engrossing adventure story that will appeal to young horse fans. Best-selling author Lauren St John has a knack for weaving gripping plots with animal and conservation themes. The text is accompanied by seven full-spread line drawings of horses and a large-scale publicity campaign is planned for the autumn.
Up close, Roo's dream horse exuded charisma and energy. His muscles rippled like living flames.

Roo reached up and rubbed his white blaze. To everyone's surprise, he gave a loud snorting sigh and relaxed.
Unlike the protagonists in the majority of horse-themed books, Roo is from a normal, working-class background, making her much more relatable to young readers. The plot neatly entwines Roo and Joni's new family structure with Famous-Five style deceptions and mysteries.
There is also a wealth of horse-related details and riding descriptions to entice both new and established horse lovers. The subplot about how to be an ally and not judge people by their background is a nice touch of inclusivity.
Finding Wonder is an accessible read that will appeal to fans of Emma Carrol and Katherine Rundell.
Many thanks to Faber Children's for the review copy.
---
If you like Finding Wonder by Lauren St John you might also like: our reviews of Nowhere Island by Tania Unsworth, Call of the Titanic by Lindsay Galvin, Circus Maximus: Rider of the Storm by Annelise Gray, Tourmaline and the Island of Elsewhere by Ruth Lauren, Wildoak by C.C. Harrington and The Time Traveller and the Tiger by Tania Unsworth.
---
Browse our list of adventure stories for children.