The Cartoons that Saved the World – at a glance
The School Reading Lists' five word review: funny, crazy, creative, fast-paced, illustrated.
Children's book title: The Cartoons that Saved the World.
Children's author: Tom Ellen
Children's illustrator: Phil Corbett
Genre: Graphic novel / humour.
Published by: Chicken House Books.
ISBN: 9781913696702
Recommended for children aged: 7+
First published: Paperback August 2022.
This children's book is ideal for: KS2 comic book fans, less confident readers.
---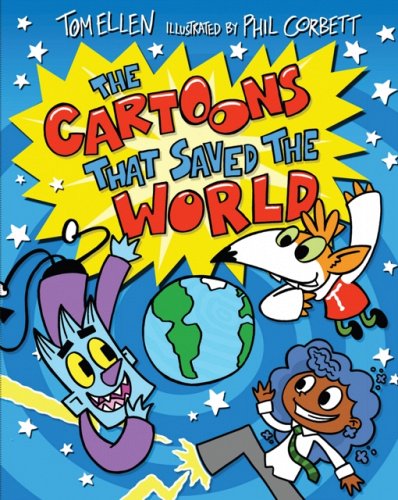 To see the latest price or order, click on the book cover image.
---
Our review:
When Finn's best friend and co-comic creator Isha reveals that she is soon to move to Los Angeles for her dad's job, Finn is angry at the perceived desertion. In an attempt to maintain their creative friendship, the two visit an old comic book shop where they find a group of cartoon characters who have been trapped in our world when their artists stropped drawing them.
Against Isha's advice, Finn uses a Magic Pen to try and draw the motley bunch of characters (including a stand-up comedian raspberry and a fire-breathing granny) back home, but ends up transporting himself and Isha to Toon World instead. When Isha accidentally boards the ruffian Runaway Train, Finn teams up with his own comic creations Arley, Tapper and Jenny Weatherlegs to try and find her. The band of would-be heroes soon discover the evil plans of newly elected President Bill Dozer, who plans to destroy Toon World and all its inhabitants.
It's a race against time for Finn and Isha to reunite and save their beloved comic creations as well as their friendship.
"Now, let's get back to discussing the finer details of our dastardly evil plans."
While technically a sequel to The Cartoons That Came To Life, with clear scope for further books in the series, The Cartoons that Saved the World can easily be read as a stand-alone novel. Aimed at a late primary or early secondary school readership, there are a few jokes for older readers including a blond, crazy-haired President who no one remembers voting for and who lives at 10 Clowning Street.
Finn and Isha's strong friendship is a key focus of the book. Despite its fantasy setting, the real life problem of a best friend moving away is one that many a young reader will relate to. Isha is a strong and diverse protagonist – independent, clever, and loyal. Although Finn takes centre stage for the bulk of the Toon World action, it is Isha who ultimately saves the day.
In the style of Dav Pilkey and Liz Pichon, with some of the body-humour of Captain Underpants, the comic style illustrations on almost every page and the large print bold speech make the book both visually appealing and easy to read. The inventive characters and made up words – – ridonkulous, gigantorific, incred-i-mendously – add humour to the madcap story and encourage reading aloud.
The Cartoons that Saved the World is a light, fast paced story that is perfect for comic book fans who are looking for a more substantial read.
Many thanks to Chicken House Books for the review copy.
---
If you like The Cartoons that Saved the World by Tom Ellen you might also like: our reviews of Big Sky Mountain by Alex Milway, Gangster School: Gruffles and the Killer Sheep by Kate Wiseman, Panda at the Door by Sarah Horne and The More Monster, written and illustrated by Hayley Wells. The Cartoons that Saved the World by Tom Ellen is also featured in our August 2022 book club picks.
---
Browse our list of graphic novels for KS2 students