Peanut, Butter & Crackers: River Rescue by Paige Braddock – at a glance
The School Reading Lists' five word review: Dogs, cats, friendship, rescue, expectations.
Children's book title: Peanut, Butter & Crackers: River Rescue.
Children's author: Paige Braddock.
Genre: Children's fiction, graphic novel.
Published by: Nosy Crow.
ISBN: 9781839949913.
Recommended for children aged: 5-8 year-olds.
First published: Paperback August 2023.
This children's book is ideal for: Children who are reluctant readers or prefer a highly illustrated story.
---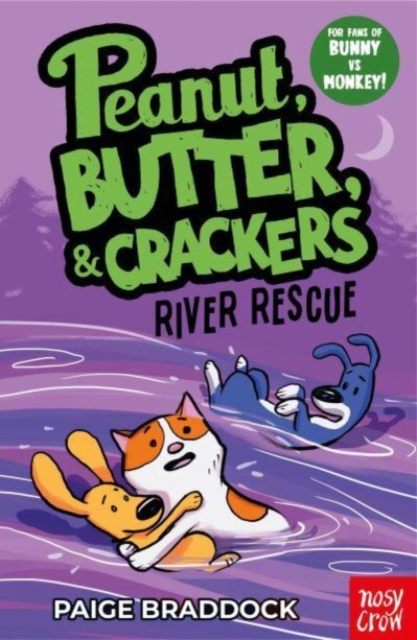 To see the latest price or order, click on the book cover image.
---
Our review:
Peanut is a friendly little puppy who lives with a cat called Butter and another dog named Crackers and they are all going on a trip with their human in a camper van. When they arrive at the campsite Butter is soon bored but, even worse, he can't find his litter tray!
When their human leaves them alone Butter takes his chance and jumps out into the darkness with Peanut following closely behind. Soon they are far away from the camper van but they can hear running water which, according to Butter, is where they should be heading. When Crackers gets concerned they've been gone too long he realises it's up to him to find them. There are lots of different smells and distractions in the darkness and a worried Crackers doesn't know if he will find his friends before their human returns!
Our verdict:
This is a fun book with lots going on. A short introduction to the three main characters and their personality traits is a great idea and helps the reader understand their relationship straight away. The story is a gentle way of showing what can happen when curiosity and impulsiveness take over. It also shows the power of friendship, especially when you have got yourself in a spot of bother!
There is a short follow on story set just after the three friends have returned home. Things don't get any easier for poor old Butter who eventually solves the problem in a very cat-like manner! Added to this is a section explaining how the author moved from book one to book two, but it isn't necessary to read the series in order.
There is also a behind-the-scenes section showing how to draw the main characters and insert them into a cartoon strip, beginning with original outlines and progressing from there to the full-colour finished scene. This could be used in a cross-curricular activity where story writing and art combine to produce either a graphic novel or illustrated narrative.
Teaching and book club discussion points
Younger children will relate to the puppy, Peanut, who is enthusiastic about most things! It could be interesting for them to imagine the animals as humans and who each would be.
Many thanks to Nosy Crow for the review copy.
---
If you like Peanut, Butter & Crackers: River Rescue by Paige Braddock you might also like: Puppy Problems: A Peanut, Butter & Crackers Story and Doggy School: A Peanut, Butter & Crackers Story (also by Paige Braddock); and our reviews of Against the Odds by Alastair Humphreys, illustrated by Pola Mai and The Cartoons that Saved the World by Tom Ellen.
---
Browse our list of animal stories.