The Memory Thieves (The Marvellers 2) by Dhonielle Clayton – at a glance
The School Reading Lists' five word review: Magic school, friendship, differences, trust.
Children's book title: The Memory Thieves (The Marvellers 2).
Children's author: Dhonielle Clayton.
Genre: Children's fiction.
Published by: Piccadilly Press.
ISBN: 9781800785502.
Recommended for children aged: 8-13 year-olds.
First published: Paperback September 2023.
This children's book is ideal for: Discussing diversity.
---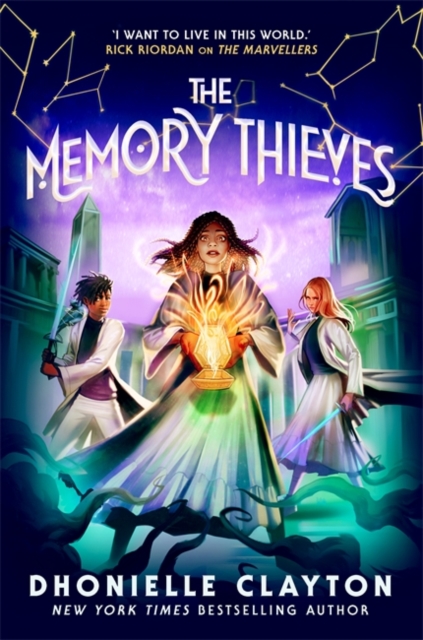 To see the latest price or order, click on the book cover image.
---
Our review:
Ella Durand is back at school. Now in her second year at the Arcanum Training Institute for Marvelous and Uncanny Endeavors, and partly because of her previous adventures, she is no longer the only Conjuror student. Her best friends, Jason and Brigit, are also back, trying to understand what happened and how it relates to them as well as wondering what the new school year will hold.
After helping reveal secrets hidden for centuries, Ella knows she has to right the wrongs done to those who didn't quite fit the Marvellers ideas for the future. When pupils in the lower school start to fall ill, everyone's plans are put on hold and the three friends find themselves having to work alone – with no idea when they will be back together again. What they do know is that time is running out, and with their very existence on the line, they may be too late to do anything!
Our verdict:
The Memory Thieves is a wonderful book full of original ideas and plot lines woven into the now familiar magic school scenario. This is the second in this series, and as there is a lot of information in the first book, it would be best to start at the beginning.
There are many parallels here with children's recent school lives, including the upheaval of lockdown and how it played out with individual students. I particularly enjoyed the portrayal of Ella's need to be accepted by everyone, even if her actions would result in her real friends being disappointed in her. The continual comments and mistrust of anyone different, which, as was the case in book one, centres around Ella being a Conjuror as well as a Marveller, was shown in a believable and insidious way. Once again the three main protagonists are successful in their quest, which isn't universally applauded, and I am looking forward to seeing how her life changes in year three.
The story is fast-moving and exciting throughout and could easily be enjoyed as a whole class experience or as private reading for those at the higher end of the suggested reading ages and abilities.
Teaching points and book club discussion ideas:
Should cultural differences matter between friends and acquaintances?
How do our home lives, including the food we eat, the holidays we celebrate, or the language we speak, transfer to the relationships we have with our peers, especially at school?
How easy, or difficult, would it be to create a whole new world that runs parallel to our own?
How could it be hidden from anyone who doesn't need to know this new civilisation exists?
What would these schools be like and where would they be?
This is a multilayered book and could be used in a cross-curricular manner concerning the different celebrations in a cultural way centering on the different foods, rituals, and official holidays as well as how to go about imagining a new school with all that entails. For reference, there is a map of the school in book one.
The Conjurverse Series website contains all sorts of interesting information, details and extra content about the world of the Marvellers and the Conjurors.
Click to listen to a free audiobook sample.
Many thanks to Piccadilly Press for the review copy.
---
To order a class set of this book, please click below to order via uk.bookshop.org, an organisation that supports local bookshops, or Amazon.co.uk.
Buy from UK.Bookshop.Org Buy from Amazon.co.uk
Disclosure: If you buy books using the buttons above: we may earn a commission from Bookshop.org, whose fees support independent bookshops; as an Amazon Associate schoolreadinglist.co.uk earns from qualifying purchases.
---
If you like The Memory Thieves (The Marvellers 2) you might also like: Mia and the Traitor of Nubis by Janelle McCurdy, Adia Kelbara and the Circle of Shamans by Isi Hendrix, The Thief of Farrowfell by Ravena Guron, Curse Breaker by Simon Tudhope, Rita Wong and the Jade Mask by Mark Jones, The Ash House by Angharad Walker and The Magician's Map by Mikki Lish and Kelly Ngai.
---
Browse our lists of books for KS2