Mia and the Traitor of Nubis by Janelle McCurdy – at a glance
The School Reading Lists' five word review: Family, loyalty, dedication, responsibility, understanding.
Children's book title: Mia and the Traitor of Nubis.
Children's author: Janelle McCurdy.
Children's illustrator: Ana Latese.
Genre: Fantasy, adventure.
Published by: Faber Children's.
ISBN: 9780571368457.
Recommended for children aged: 9-12 year-olds.
First published: Paperback August 2023.
This children's book is ideal for: Anyone who enjoys an immersive read with relatable main protagonists even with their superpowers!
---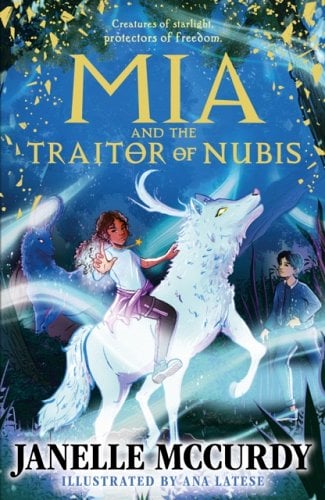 To see the latest price or order, click on the book cover image.
---
Our review:
Mia has discovered she is one of two lightcasters in her hometown of Nubis, which exists in perpetual darkness, the second is her little brother, Lucas. Together they have returned home after an epic adventure hoping life can get back to normal. Unfortunately, Mia is learning that when your friends look at you differently and your parents worry about you all the time it's not easy to try and pretend you are just the same as you always were.
When it becomes clear that even though the Reaper King is gone and his helpers are behind bars the danger is still out there and a traitor is far closer than anyone realises. With nightmares disturbing her sleep and messages from an unknown source cutting into her thoughts at inopportune moments Mia is constantly on edge. When a friend returns unexpectedly and the behaviour of another changes she finds her loyalty tested which leads her to suspect everyone, even those she would usually trust unreservedly.
As danger moves ever closer Mia finds herself racing to save her home once again. This time, however, as the danger increases the enemies of Nubis are one step ahead of her. Racing towards an uncertain resolution no one could have foreseen the devastating price which will need to be paid if any of them are to survive to continue the fight.
Our verdict:
This is a brilliant, fast-moving, adventure story with a likeable main protagonist who is easy to relate to. The second in the Umbra Tales trilogy this series absolutely needs to be read in order. I hadn't done this and realised my mistake very quickly. There are descriptions in the first book Mia and the Lightcasters which explain things about why Nubis is always dark, who the Reaper King is, and why Mia has two Umbra guides. These are not revisited in the second installment and the book is so much more exciting and vivid with that knowledge.
Once I had read the first book I started this again and absolutely loved it. The ending was shocking and I will absolutely be on the lookout for the final instalment. I need to know how this concludes and at the moment I have no idea, which is an excellent place to be in my opinion.
Trigger warning for the death of a parent. This happens near the end and is sudden and unexpected. There is still some story to be told after this tragedy but it might stop younger readers in their tracks, at least initially.
Teaching and book club discussion points
Mia and the Traitor of Nubis could be used to encourage discussion around how being different can single you out – whether or not you want the attention.
Students could consider how difficult they think it would be to regain the trust of others when something has changed in a friendship, and whether things can ever be the same.
Many thanks to Faber Children's for the review copy.
---
If you like Mia and the Traitor of Nubis by Janelle McCurdy you might also like: our reviews of Adia Kelbara and the Circle of Shamans by Isi Hendrix, Antigua de Fortune of the High Seas by Anna Rainbow and Oli Hyatt, The Thief of Farrowfell by Ravena Guron, The Magician's Map by Mikki Lish and Kelly Ngai, Curse Breaker by Simon Tudhope and Circus Maximus: Rider of the Storm by Annelise Gray.
---
Browse our list of books for year 6.