The Thief of Farrowfell by Ravena Guron – at a glance
The School Reading Lists' five word review: Magic, crime, family, friendship, loyalty.
Children's book title: The Thief of Farrowfell.
Children's author: Ravena Guron.
Children's author: Alessia Trunfio.
Genre: Crime.
Published by: Faber Children's.
ISBN: 9780571371174.
Recommended for children aged: 10+ year olds.
First published: Paperback May 2023.
This children's book is ideal for: KS2 & KS3 crime fans.
---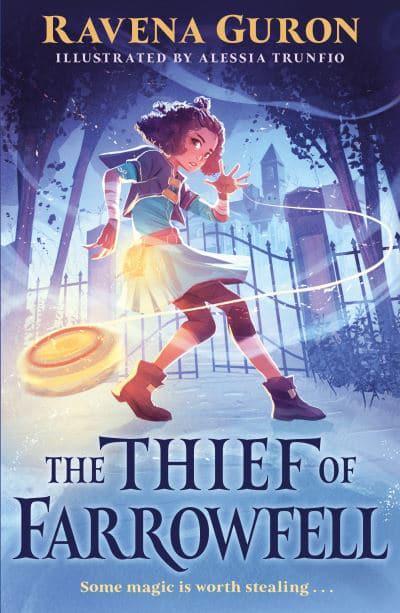 To see the latest price or order, click on the book cover image.
---
Our review:
Jude Ripon loved stealing.

Not just magic, or money, or diamonds and gold, though they were all fun things to pinch. She liked the quiet moments when she snuck through mansions of the rich, her footsteps muffled by thick, plush carpets. The stolen seconds of living someone else life.
As part of one of Farrowfell's most notorious criminal families, twelve-year-old Jude should have plenty of opportunities to indulge in her love of thievery. But as the youngest, she's forever relegated to the role of look-out, outshone by her perfect older sister Moorley and all but ignored by her parents and Grandleader, the family's intimidating patriarch.
Determined to prove her worth, Jude plans a daring heist to steal rare decision-making magic from the Weston Mansion, home to one of the most powerful families in Farrowfell. At first it seems like the heist has gone according to plan but just as Jude is making her get away, she's accosted by a renegade magic-keeper who claims to have been protecting the stolen artefact and warns Jude of far reaching consequences for her whole family if she doesn't immediately return the stolen goods.
'Your lives will slowly fall apart until you have nothing – unless you return the magic and seek forgiveness for stealing from its owner.'
Discounting the warnings and making her escape, Jude is looking forward to revealing her prize to her family and basking in their long-awaited acceptance. But before she can do so, a series of misfortunes befalls the Ripon family. Minor incidences such as an uncle's sprained ankle soon escalate into burst pipes and an infestation of slime-spitting rats.
When news arrives of a missing shipment of magic that's placed her family in real danger, Jude realises that her stolen magic really does contain a curse. In an attempt to break its hold, she tries to return the artefact only to discover that it's owners have gone missing. Jude is forced to join forces with the Weston children to find their parents in order to break the curse. In doing so, Jude starts to question her loyalty to her own family and consider whether she really wants to be a true Ripon after all.
The Thief of Farrowfell is the first in a new series of children's books by YA author Ravena Guron. The world of Farrowfell is richly developed, with eatable magic, sentient houses and magical, if rather unhelpful, servants. Jude's family are intriguingly awful and Jude herself is a capable, albeit largely immoral, heroine. The action is fast-paced and the side characters well developed. The ending is satisfying while leaving room for further books in the series.
The Thief of Farrowfell will appeal to fans of Eva Ibbotson and Katherine Rundell.
Many thanks to Faber Children's for the review copy.
---
If you like The Thief of Farrowfell by Ravena Guron you might also like: our reviews of This Book Kills by Ravena Guron, The Accidental Stowaway by Judith Eagle, Rita Wong and the Jade Mask by Mark Jones, A Case of Grave Danger (The Violet Veil Mysteries) by Sophie Cleverly, Another Twist in the Tale by Catherine Bruton & The Pear Affair by Judith Eagle.
---
Browse our list of books for year 5