Panda at the Door – at a glance
The School Reading Lists' five word review: furry bear cosiness & smart technology.
Children's book title: Panda at the Door.
Children's author: Sarah Horne.
Genre: Chapter book fiction for lower KS2 independent readers.
Published by: Chicken House Books.
ISBN: 9781911490012
Recommended for children aged: 7-9.
First published: Paperback May 2021.
This children's book is ideal for: reading aloud to classes in years 2-4.
---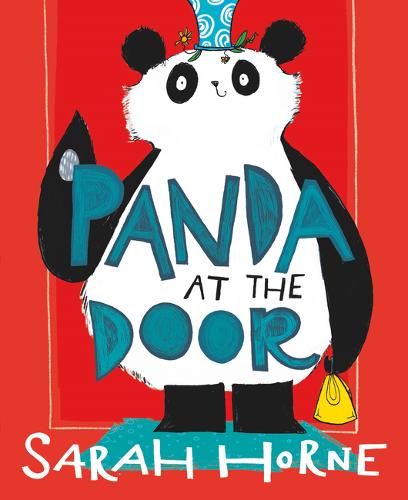 To see the latest price or order, click on the book cover image.
---
Our review:
What's not to love about pandas? They are cute, furry, cute, soft, cute, cuddly and, of course, cute. Pudding, the star of Panda at the Door, is everything a panda should be and the added attraction is that she can talk!
If you enjoy tigers coming to tea, going on bear hunts and reading about the adventures of a bear from darkest Peru, then you are going to love this book.
"Panda at the Door" is great fun. With an original storyline and, witty and playful use of language, it has an edge that will appeal to young readers and any adults that encounter Pudding and the Campbell family.
Pudding the Panda is the star attraction at Edinburgh Zoo but she is lonely and longs for a family. Her only companion is Gerald her eighty-two-year-old keeper – "Och! Ah'm absolutely knackered. Ma flamingos have been givin' me the run- around today".
It is Callum Campbell's ninth birthday and it is not going well. Cal's dad, a stand–up comedian, is not getting any work and his failure "to bring home the bacon" leads to a family row and he leaves home in a fit of self-pity. Tabby, Cal's younger sister, is, according to Cal "the most annoying person on the planet" and his mum is upset and crying because dad has left home. Cal believes his mum and dad have had a row about bacon – "Arguing about bacon! How stupid is that?" Add into the mix the Spikers – a father and son team of bullies who live opposite the Campbells and the fact that Neil, Cal's best friend, has recently moved away, and you have a recipe for a pretty poor ninth birthday celebration.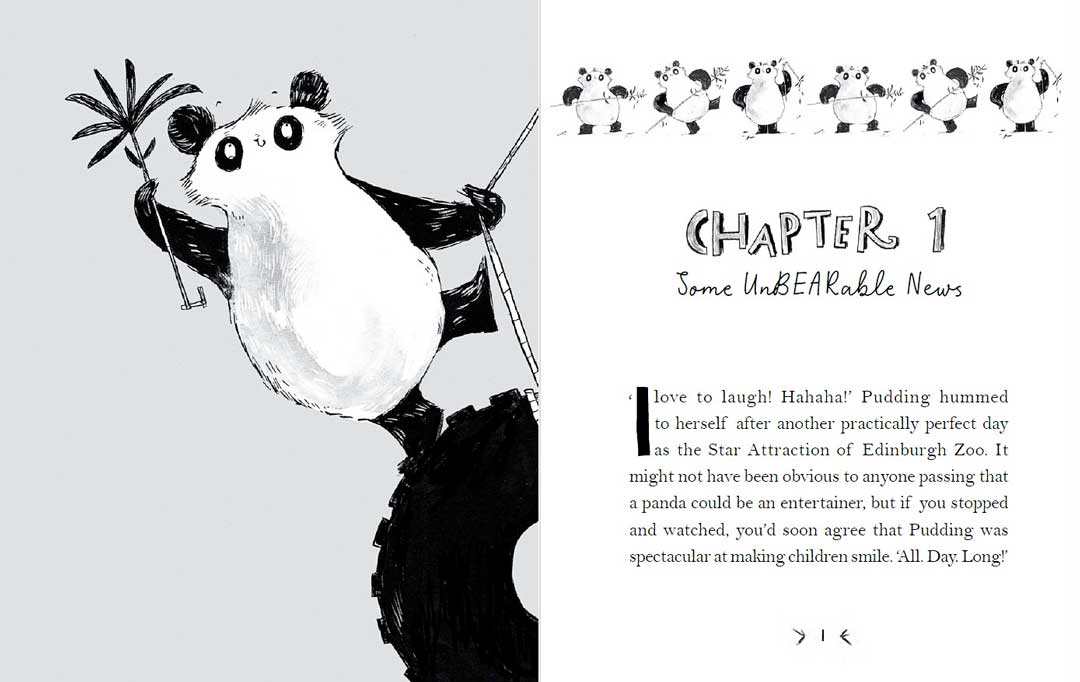 However, out of the wreckage of his failed birthday, it emerges that Callum's parents have arranged for him to have "adopted" Pudding and the deal is that Callum is to be allowed free visits to the zoo to see the panda:
"Hello! Thank you for adopting me! My name is Pudding the panda bear. I am the star attraction at Edinburgh zoo! You can come visit me for free anytime by showing this card at the entrance. You can also email me (there follows Pudding's email address which must, of course, remain confidential!). See you soon!"
From now on the story gallops along at a great pace. Gerald's smartwatch has wireless connectivity and Pudding and Cal are able to exchange emails, the Campbells and Pudding are a marriage made in heaven, the bullies are thwarted and all's well that ends well.
The book deals sensitively with some issues young readers will recognise – sibling rivalry, family tensions and bullying. I imagine that the book will provoke some rewarding discussions between children and their parents and carers about these subjects. But the importance of friendship and family ties and the enduring love that bind a family together are always at the forefront. "Panda at the Door" will bring a smile to the faces of its readers and a warm glow of satisfaction as the plot unfolds.
"Panda at the Door" is a winning combination of traditional furry bear cosiness and smart technology and Cal's childhood anxiety will strike a chord with many young readers. The cover and the brilliant illustrations (most pages have at least one great picture) capture the joy, humour and warmth of the story beautifully.
Pudding the Panda should have the final words, she promises that Cal's dad and her are going to make their fortune by putting on a hit show – a "Panda–mime" and it is going to be:
"the BEST, the most EXCITING, the most WONDERFUL panda show EVER".
As I may have mentioned before, pandas are cute and this one is cutely loveable and also cutely clever.
Panda at the Door by Sarah Horne is our fiction Book of the Month for May 2021.
Many thanks to Chicken House Books for the review copy.
If you like Panda at the Door by Sarah Horne you might also like: Picklewitch & Jack and the Sea Wizard's Secret by Claire Barker, Lori and Max and the Book Thieves by Catherine O'Flynn, A Case of Grave Danger (The Violet Veil Mysteries) by Sophie Cleverly, The Marvellous Land of Snergs by Veronica Cossanteli, our collection of graphic novels for 7-11 year olds, our collection of STEM toys, and our list of recommended books for KS4.
---
Browse more books for year 3 or books for year 4