Gruffles and the Killer Sheep – Gangster School – at a glance
The School Reading Lists' five word review: Devious and fun, baa none.
Children's book title: Gangster School: Gruffles and the Killer Sheep.
Children's author: Kate Wiseman.
Genre: Children's fiction.
Published by: ZunTold.
ISBN: 9781999863388
Recommended for children aged: 8-12.
First published: Paperback 2019.
This children's book is ideal for: sharp minds in KS2 and reluctant yet intelligent children in lower KS3. Definitely deviant, this book could well be a left-field hit with the subversive elements in your class.
---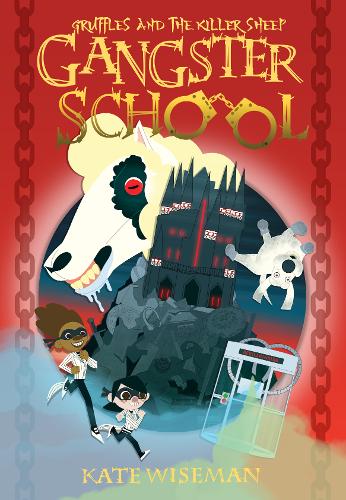 To see the latest price or order, click on the book cover image.
---
Our review:
Think Harry Potter meets Artemis Fowl meets Indiana Jones with thrills and spills told at a spin-dryer top speed with more fizz than an energy drink. This Gangster School story is a middle-grade roller coaster, rammed with jokes, razor-sharp language, unusual observations and … killer sheep.
But these sheep have been shorn of any cuteness. The third in an anarchic series, Gruffles and the Killer Sheep pits the devious pupils of Blaggard's against their arch-rivals – Crumley's School for Career Criminals – at the most prestigious event on the educational calendar – Crimicon. Blaggard pupils Milly and Charlie, and Charlie's heroic dog Gruffles, uncover secrets, danger and trickery in a page-turning adventure which will keep young readers gripped until the end.
The writing style is unique and peppered with alliterations and weirdly catchy names. There's a teacher of defiance and discourtesy – a subject she prefers to argument and acrimony; a dome of destruction and memorable characters such as Pecunia Badpenny and Jezebel Jackson. The fast paced delivery is perfect for children who like to read a book in one or two sittings. Set pieces and action sequences are ejected as streams of consciousness with graphic and laugh-out-loud imagery.
For English lessons, there's a lot of tightly edited and varied dialogue – which could be useful for modelling speech writing in pupil's stories.
There is also a rich vein of interesting characterisation to mine. Children could use ideas from this book to experiment with their own writing by taking familiar settings and turning them into vibrant and colourful fantasies or alternative realities. Turning the timetable into an evil master plan and converting every lesson into a recipe for mayhem may well appeal to 9-11 year olds…
For non-fiction writing, the pastiche school documents in the plot – such as the Crimicon itineraries and historical records – would be great to use as impetus texts for fun and inventive expository writing or chronological reports.
Many schools are teaching topics based on crime and punishment in KS2 and this book would be a light-hearted counterpoint to history lessons or PSHE discussions, while still tackling themes of friendships, honesty, trust, deception, and competition in a way that children will find absorbing and accessible.
And finally, for any teachers working in tricky schools, could there be a more perfect book than one which features a Head called Dr BL Zeebub and an ultimate behaviour management machine called the Devillainator?
Our verdict
This book is ideal for sparky children with a hint of subversiveness. Packed with clever language which isn't dumbed down, this book will make children laugh but also think. Children will flock to the library to read it.
Many thanks to ZunTold for a review copy.
If you like this book you might also like Who Let the Gods Out by Maz Evans, The Incredible Adventures of Professor Branestawm by Norman Hunter, The 13-Storey Treehouse (The Treehouse Books) by Andy Griffiths, Toad Rage (Down to Earth) by Morris Gleitzman and Artemis Fowl by Eoin Colfer.
---
Why not have a look at our suggested reading lists for children aged 3-16?
Please respect copyright and don't copy or reproduce our content. Sharing on social media or linking to our site's pages is fine. Thanks. This page was first published on Sep, 16 2019 and last updated on Mar 17, 2021 @ 8:17 pm.