The Butterfly Lion – at a glance
The School Reading Lists' five word review: engaging, enthralling, lyrical, gift edition.
Children's book title: The Butterfly Lion.
Children's author: Michael Morpurgo
Children's illustrator: Christian Birmingham.
Genre: illustrated gift edition fiction chapter book.
Published by: Harper Collins Children's Books.
ISBN: 9780008459864
Recommended for children aged: 7+
First published: Hardback November 2021.
This children's book is ideal for: reading to year 3 and 4 classes.
---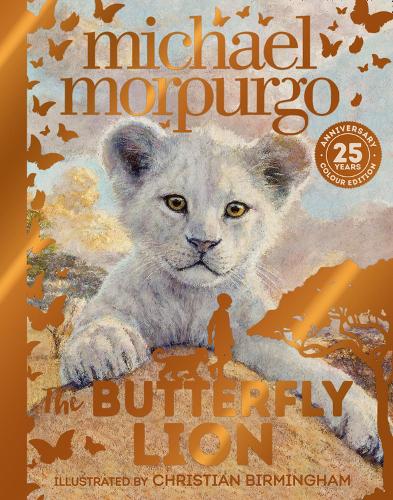 To see the latest price or order, click on the book cover image.
---
Our review:
I've taught and read The Butterfly Lion in three very different primary phase schools over the last 20 years. In each school, the children came from very different backgrounds with a wide range of experiences of school, childhood and family life. But despite this, The Butterfly Lion managed to resonate equally with the pupils in all three schools.
In one, a modern boarding school, the children could compare their improved experiences to Bertie's hardships in a spartan bygone setting. In another, the vivid descriptions of Africa transformed grey windswept days of an urban Autumn term, and in the third, the descriptions of school food and chilblains fascinated the children and engaged their parents and grandparents who would delight in telling of their own memories.
Wherever I've used this The Butterfly Lion in English teaching, the pupils have always found something to be enthralled by – and the lyrical text seems to have an uncanny knack of capturing their imaginations.
There's plenty for KS2 teachers to get their teeth into in terms of literacy planning and topic teaching. The themes of friendship and loyalty, combined with the richly realised characters, lend this text for use in hot seating, book club discussion and PSHE circle times.
The World War 1 setting makes this book a useful text to teach in conjunction with history lessons, and also to add atmosphere and meaning to a year 3 or 4 remembrance topic. The delicate and carefully woven ending with just a hint of the unexplained could lead to thought-provoking teaching of inference skills, modelling descriptive settings, and writing about outside landscapes.
This edition of The Butterfly Lion – a heavy larger format hardback with an eye-catching orange-golden metallic trim, makes for an ideal birthday present or centrepiece for the classroom. The dust jacket and the expressive double-paged painted landscapes that traverse England, Africa and France, will enchant a watching class as the teacher reads and shares; and at home, the story itself will be a gift to treasure for children and parents.
Michael Morpurgo was the third children's laureate between 2003 and 2005 and has written over 150 books and sold more than 35 million copies.
Many thanks to Harper Collins Children's Books for the review copy.
If you like The Butterfly Lion by Michael Morpurgo you might also like: our list of recommended animal stories for children in KS1, KS2 and KS3, Old Toffer's Book of Consequential Dogs by Christopher Reid, Panda at the Door by Sarah Horne, White Fox in the Forest by Chen Jiatong, Darwin's Dragons by Lindsay Galvin and The Boy Who Dreamed of Dragons by Andy Shepherd.
---
The Butterfly Lion is also featured on our list of books for year 4.