Super Space Weekend: Adventures in Astronomy by Gaëlle Alméras – at a glance
The School Reading Lists' five word review: Non-fiction, space, graphic novel, science, humour.
Children's book title: Super Space Weekend: Adventures in Astronomy.
Children's author: Gaëlle Alméras.
Translated by: David Warriner.
Genre: Non-fiction graphic novel.
Published by: Greystone Kids
ISBN: 9781778401091.
Recommended for children aged: 7+.
First published: Paperback October 2023.
This children's book is ideal for: Astronomy fans.
---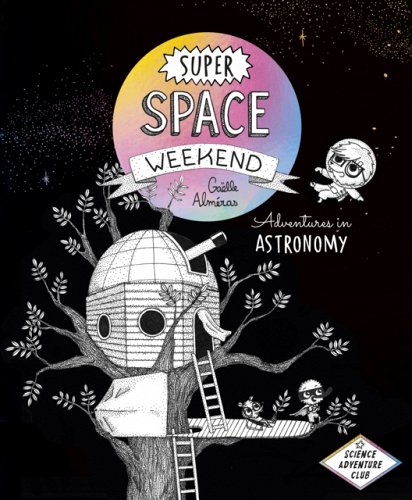 To see the latest price or order, click on the book cover image.
---
Our review:
Have you ever looked up at the sky and wondered, 'What's out there?'
Best friends Squeak, Orni and Castor are spending the weekend camping at Squeak's amazing treetop observatory. Filled with telescopes and star charts, the observatory is the perfect location for a weekend of learning about the night sky.
Over two magical nights, budding astronomer Squeak teaches his friends about:
The composition of the solar system
Why Pluto is no longer considered to be a planet
The difference between comets, asteroids and meteorites
How pirates navigated using the stars
The difference between astronomy and astrology
And much, much more!
Now it's your turn to be an astronomer!
Successful non-fiction books for children have always had to try and find interesting ways to present information so it doesn't come across as either too simplistic or beyond their reader's grasp. Arguably this has become even more important in recent years, when a child's default action when trying to find something out is to Google it, with little reflection as to the verifiability of the resulting answer.
High-quality texts such as Super Space Weekend are therefore vital. Originally published in France as a series of popular science columns, the text has been scientifically reviewed by cosmographer Helene Courtois and planetologist Jean-Francois Gonzalez, so readers can be sure that what they are reading is both true and relevant.
Super Space Weekend presents its subject matter in a highly detailed yet never over-complicated manner. The book is fully illustrated, largely in black and white, which suits the subject matter. The graphic novel style format makes it accessible for both confident and reluctant readers. The text is both informative and funny. The reader learns alongside Squeak, Orni and Castor in a way that never comes across as patronising and helps to elevate the book beyond merely an 'info dump' of facts and figures. The practical star gazing tips at the end will help to further inspire the next generation of astronomers.
Super Space Weekend is a high-quality non-fiction text that will appeal to both existing space enthusiasts and those who want to learn more about the subject.
Many thanks to Greystone Kids for the review copy.
---
To order a class set of this book, please click below to order via uk.bookshop.org, an organisation that supports local bookshops, or Amazon.co.uk.
Buy from UK.Bookshop.Org Buy from Amazon.co.uk
Disclosure: If you buy books using the buttons above: we may earn a commission from Bookshop.org, whose fees support independent bookshops; as an Amazon Associate schoolreadinglist.co.uk earns from qualifying purchases.
---
If you like Super Space Weekend: Adventures in Astronomy by Gaëlle Alméras you might also like: our reviews of Absolutely Everything by Christopher Lloyd, The Fantastic Electric Mash-up Machines: Obstacle Attack! by Tyler Byrd and N.S Blackman, Prehistoric Beasts by Dr Dean Lomax, illustrated by Mike Love, A Trip to the Future by Moira Butterfield, Dr Maggie's Grand Tour of the Solar System by Dr Maggie Aderin-Pocock and The Extraordinary Elements by Colin Stuart.
---
Browse our list of graphic novels for KS2