Overemotional by David Fenne – at a glance
The School Reading Lists' five word review: humorous, endearing, fantasy, crushes, LGBTQ+.
YA book title: Overemotional.
YA author: David Fenne.
Genre: LGBTQ+, fantasy adventure.
Published by: Ink Road.
ISBN: 9781785304729.
Recommended for children aged: 13+ year-olds.
First published: Paperback July 2023.
This YA book is ideal for: KS3 students in Y8 and Y9.
---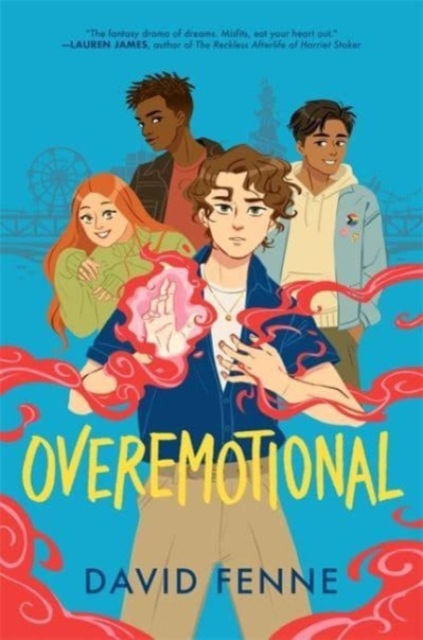 To see the latest price or order, click on the book cover image.
---
Our review:
Seventeen-year-old Steven Percival has managed to get himself into a bit of a scrape. Now, you'd be hard-pressed to find anyone who could say their first kiss was good, but it can't get much worse than Steven's – the first time he kissed a boy, he made his head explode. Yikes! Understandably, Steven flees to the dingy seaside town of Grunsby-on-Sea, evading his friends, family and his mock A-Levels.
Steven is an "emomancer" – an individual whose emotions manifest in superpowers – his happiness creates thunderstorms, and his sadness and anger manifest fear in those around him. To protect those around him, Steven closes in on himself, hiding away from the world. His best friend Freya is having none of it, however, chasing him out to Grunsby to bring him home, bringing her car-obsessed boyfriend Marcus, and his handsome new American friend, Troy, with her. Despite his attempts to conceal his powers, it's not long before Freya finds out about them. Freya's not the only person Steven has to worry about, however.
Agents from a mysterious entity called DEMA are on Steven's tail, but what do they want from him? Do they want to capture him? Experiment on him? Neutralise him? Whatever that means. Steven won't be hanging around to find out. After evading an attempted capture from one of DEMA's more unscrupulous agents, Steven accidentally manifests his powers in public, attracting the attention of a handsome, mysterious stranger who says he can help Steven control his emomancy. Steven jumps at the chance to finally feel in control – the fact that this stranger is super cute is an added bonus.
It's not long before things start to spiral out of control, with Steven and his friends drawn into something much bigger than themselves. They must figure out who can be trusted and who is not all that they seem.
Overemotional is author David Fenne's debut YA novel. Combining the awkwardness of teenage crushes with X-Men-style action sequences, this book is a Summer read teenagers will find hard to put down. Fenne has created an endearing and charismatic cast of main characters who are easy to fall in love with. Though perhaps the inciting incident of our main character committing a murder is dealt with in what can strike the reader as a rather confusingly blase manner, we are quickly brought on board with the silly, humorous tone of the book.
Whilst this endearing and wholesome LGBTQ+ read does include some swearing and sexual innuendo, this reviewer would say that tonally Overemotional falls at the younger end of the young adult spectrum. It would perhaps be best suited for a young person who is ready to move on to a slightly more mature read without sacrificing fun and adventure. Fans of Simon James Green, Tola Okogwu and Alice Oseman will enjoy this one.
Many thanks to Ink Road for the review copy.
---
If you like Overemotional by David Fenne you might also like: our reviews of The Not-So-Uniform Life of Holly-Mei by Christina Matula, Gwen and Art Are Not in Love by Lex Croucher, The Lesbiana's Guide to Catholic School by Sonora Reyes, Sing If You Can't Dance by Alexia Casale, Crossing the Line by Tia Fisher and Taylor Before and After by Jennie Englund.
---
Browse our list of books for KS3