Crossing the Line – at a glance
The School Reading Lists' five word review: Poetic, absorbing, dangerous, involving, gripping.
Young adult book title: Crossing the Line.
Young adult author: Tia Fisher.
Genre: Verse novel.
Published by: Hot Key Books.
ISBN: 9781471413049.
Recommended for young adults aged: 13+.
First published: Paperback March 2023.
This children's book is ideal for: KS3 and KS4.
---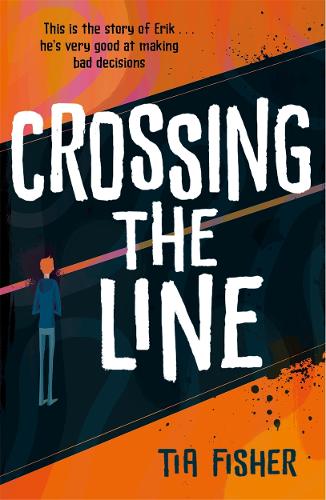 To see the latest price or order, click on the book cover image.
---
Our review:
Erik has been a target for bullies since his first day at secondary school. While his mum refers to his hair as:
'A beautiful shade of auburn:
like a maple leaf in autumn'
to the other boys, he's 'Gingernut', 'copper-knob' and 'carrot-top', and despite fighting back, the bullying is relentless.
The first covid lockdown therefore initially comes as a relief, with online learning providing an escape from Erik's tormentors. But then tragedy hits and Erik's dad dies, leaving Erik to care for his mum and baby twin sisters.
It feels like
someone has
unglued me.

Put the bits back
all wrong.

I'm different now –

& I'm not sure
I like myself
this way
With money increasingly tight at home and his sisters' cries keeping him up all night, Erik's schoolwork soon begins to suffer. Instructed by his mum never to ask for help, Erik hides his difficulties behind a bad attitude and is soon in regular detentions.
Running offers a way out and a chance to escape his worries. However as his behaviour worsens, Erik slowly finds himself abandoning his loyal friend Ravi and hanging out more and more with his former tormentors Travis and Ben and their unsavoury friends. Skipping school turns into shoplifting which turns into drug running.
At first, it's easy money and Erik finds a new kind of family and a welcome sense of belonging. But a few casual drop-offs soon escalate into trips further afield and the lies and deception start to take their toll.
When Erik tried to escape the dark world he's fallen into, his baby sisters come under threat and Erik finds himself in way over his head, with nothing but bad choices left to make.
Not making excuses,
but it was
all the stuff before,
all those other dominoes
leaning on my back.

That's what tipped me over.
Crossing the line is a fast-paced, highly readable novel in verse. This an exciting and growing sub-genre of YA fiction that tends to particularly appeal to reluctant or disengaged readers. The innovative use of different fonts and layouts in this case is particularly appealing and draws the reader into the narrative. The post-covid setting is very relatable and the murky world of drug dealing makes for addictive reading.
Despite the (many) bad choices he makes, Erik is a likeable protagonist, loyal to his family and with good intentions, albeit poor judgement. The powerful ending offers a realistic way out of the tangled situation Erik and his family are facing while signposting readers to sources of help for those facing similar issues.
Given the subject matter, Crossing the line is suited to an older readership and will appeal to fans of Kwame Alexander and Jason Reynolds.
Teachers might like to read The Children's Society's useful guide for educators – What is County Lines – which includes a related podcast episode.
Many thanks to Hot Key Books for the review copy.
---
If you like Crossing the Line by Tia Fisher you might also like: our reviews of Fighting in a World on Fire by Andreas Malm, You Think You Know Me by Ayaan Mohamud, The Silver Chain, written and illustrated by Jion Sheibani, When Shadows Fall by Sita Brahmachari, Musical Truth by Jeffrey Boakye and The Boy Lost in the Maze by Joseph Coelho.
---
Browse our list of books for KS4