Sing If You Can't Dance by Alexia Casale – at a glance
The School Reading Lists' five word review: Romance, friendship, music, moving, disability.
Children's book title: Sing If You Can't Dance.
Children's author: Alexia Casale.
Genre: Romantic drama.
Published by: Faber.
ISBN: 9780571373802.
Recommended for children aged: 13+ year-olds.
First published: Paperback July 2023.
This children's book is ideal for: KS3 & 4 romance fans.
---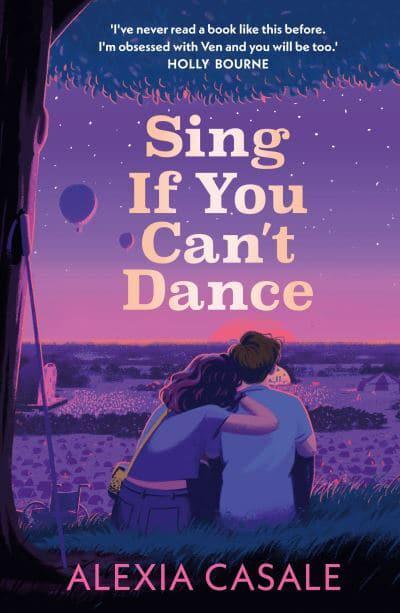 To see the latest price or order, click on the book cover image.
---
Our review:
Before we start, I'm going to be totally upfront and tell you that I don't care whether you like me or not. That's your problem.
Fifteen-year-old Ven (NEVER call her Venetia) has her life all planned out. She and her best friend Maddie are on the cusp of realising their dancing dreams with a place in the second round of a major televised dance competition with their group PopSync. Ven is convinced that her recent breathing troubles and those odd pains are just a result of nerves; nothing serious. But then disaster strikes and Ven collapses on stage mid-performance and her world, and future plans, take a dramatic shift.
The whole stage goes black…
Then someone pulls the floor away.
And I fall and fall and fall.
Eighteen months later Ven has a chronic illness, a tendency to dislocate her limbs, and – according to her teachers at least – a very bad attitude. While Maddie and her PopSync friends try to be supportive, Ven hates the air of pity that now surrounds their friendship. Others, including bully Abigail Moss, hide their meanness behind simpering smiles and fake concern.
When new boy Ren literally bumps into her, Ven is jolted out of her self-focus. Partly because the bump leaves her with yet another dislocation, but also because of his appearance.
When they say truth is beauty, I think this is what they mean. The boy isn't beautiful because of his scars or in spite of them, he just is.
Thrown together in a bickering singing group, Ven slowly encourages Ren out of his shell and even manages to recruit him to help out at her family's music festival. As friendship starts to become something more, Ven realises that she still has options in life and that her medical issues don't have to define her – or limit her future dreams.
Sing If You Can't Dance is a moving story of finding a new path when life has taken a cruel twist. Ven is prickly, sarcastic and fiercely independent. Despite her claims of indifference, she is actually very likeable. Her growing attachment to Ren is all the more touching for its lack of sappiness. This is not a typical meet-cute teenage romance, but rather a partnership of two people who've been hurt by life and have found a kindred spirit in each other.
Other than the niche sub-genre of 'teenagers fighting cancer', it's rare for a YA novel to have a protagonist with serious medical issues. Sing If You Can't Dance gives much needed representation to those affected by chronic health problems, without resorting to mawkishness or 'heroic suffering' tropes. Noticeably, Ven's condition is never named. She has a chronic health condition but her whole life isn't about that. Her story is powerful and her voice is unique and memorable.
Sing If You Can't Dance is a moving, realistic romance that will appeal to fans of Holly Bourne and Alice Oseman.
Many thanks to Faber for the review copy.
---
If you like Sing If You Can't Dance by Alexia Casale you might also like: our reviews of The Isles of the Gods by Amie Kaufman, Once Upon a Fever by Angharad Walker, When Shadows Fall by Sita Brahmachari, Unraveller by Frances Hardinge, You Think You Know Me by Ayaan Mohamud and Crossing the Line by Tia Fisher.
---
Browse our list of books for KS4