The Not-So-Uniform Life of Holly-Mei by Christina Matula – at a glance
The School Reading Lists' five word review: lively, dramatic, engaging & timely novel.
Children's book title: The Not-So-Uniform Life of Holly-Mei.
Children's author: Christina Matula.
Genre: Middle-grade fiction.
Published by: Inkyard Press.
ISBN: 9781335428653.
Recommended for children aged: 9+ year-olds.
First published: Paperback April 2023.
This children's book is ideal for: children in years 6-8.
---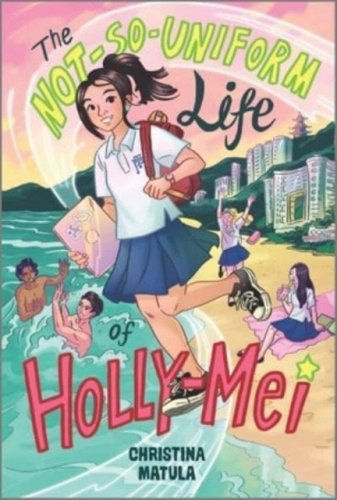 To see the latest price or order, click on the book cover image.
---
Our review:
Christina Matula has written a lively, dramatic, engaging and timely novel about the strains of being a modern pre-teenager in a time when social media dominates so many areas of our lives. I use the word 'timely' deliberately. There have been too many distressing cases in recent years of youngsters committing suicide after having been bullied and harangued online. If reading this book helps one person to develop a sense of perspective and detachment, at a time in her/his life when such things are so difficult to attain, then it will have served a worthwhile purpose.
Holly-Mei Jones, her sister and parents move from Canada to Hong Kong, where her mother is due to start a new and important job. They leave her grandmother behind, but know they will be returning in two years.
Their new life is, literally, a world away from what they're used to. Holly-Mei's classmates at her shining modern school are members of a rich cosmopolitan elite who travel the earth enjoying first-class food, clothes, gadgets, accommodation and holidays. They inhabit a place often described (by politicians) as 'aspirational.' By definition, not many people can be squashed into this place, but this shouldn't put people off reading about it. As George Orwell pointed out in his brilliant essay Boys' Weeklies, working-class youngsters living in poor districts of our big cities were among the most avid readers of stories about public schools between the wars.
As we grow older we worry less and less about what other people think. At the age of eleven, most people think of nothing else. To make matters worse, they are bombarded every second with messages, images and adverts through their phones and computers. Holly-Mei suffers regret, anxiety, misapprehension, jealousy and paranoia, all of it unnecessary and, thankfully, short-lived, in this fast-moving account of her journey towards self-knowledge and emotional balance.
I thoroughly enjoyed this book, including, (and sometimes especially,) the descriptions of food in the Far East. It's made me want to find the recipes and try them myself, something I haven't done since I first read Henry Miller!
Many thanks to Inkyard Press for the review copy.
---
If you like The Not-So-Uniform Life of Holly-Mei by Christina Matula you might also like: our reviews of Kofi and the Rap Battle Summer by Jeffrey Boakye, Our Beautiful Game by Lou Kuenzler, The Truths We Hold – An American Journey by Kamala Harris, A Case of Grave Danger (The Violet Veil Mysteries) by Sophie Cleverly and Emily Windsnap and the Pirate Prince by Liz Kessler.
---
Browse our list of books for KS3.