The Lesbiana's Guide to Catholic School by Sonora Reyes – at a glance
The School Reading Lists' five word review: LGBTQ+, romance, family, friendship, religion.
YA book title: The Lesbiana's Guide to Catholic School.
YA author: Sonora Reyes.
Genre: YA, LQBTQ+.
Published by: Faber.
ISBN: 9780571373765.
Recommended for children aged: 15+ year olds.
This edition published: Paperback May 2023.
This children's book is ideal for: KS4 diverse reading lists.
---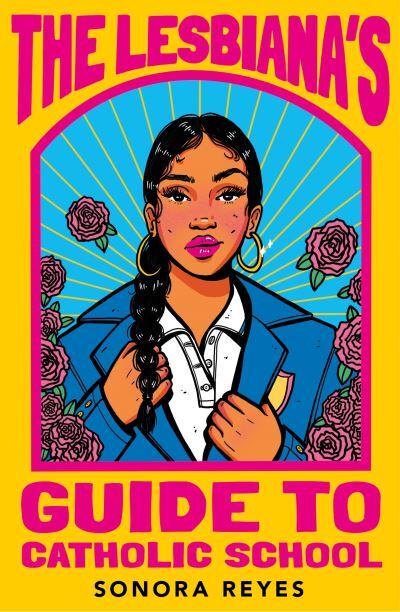 To see the latest price or order, click on the book cover image.
---
Our review:
When her former best friend (and secret crush) Bianca outs her to the whole school, Yami immediately plans her escape. Her younger brother Cesar's scholarship to the prestigious Slayton Catholic private school is the perfect opportunity and Yami jumps at the chance to accompany him.
This will be fine. I have a foolproof game plan:
1. Find a new best friend
2. Don't be gay about it.
Slayton offers Yami a second chance at both friendship and education, as well as a way to protect Cesar from his tendency to get into fights. With her father deported back to Mexico and her mother working two jobs to meet ends meet, Yami is determined to protect her family.
It's a lot of pressure, having to be the perfect role model for my brother when I can barely keep it together myself.
Unfortunately, Slayton doesn't quite live up to Yami's ideal of a fresh start, with racist 'Mean Girl' gangs and homophobic debate classes. But then there's Bo, one of the few other non-white students, she is also openly gay and proudly outspoken. Despite their mutual attraction, Yami is determined to keep Bo firmly in the friend zone and continue to hide her sexuality. But when Bo provides vital support during a family crisis and Bianca tries to make amends, Yami finds that love doesn't always follow the rules…
The Lesbiana's Guide to Catholic School is a bold, warm and funny YA novel. Yami is a confident, articulate protagonist. Her struggles with her sexuality are balanced with her family commitments and religious education. Her Indigenous Mexican heritage adds a much-needed diverse element to the typically white LGBTQ+ characters in YA fiction.
There are the usual American High School tropes of out-of-control parties, Homecoming dances and ill-advised drinking. However, there is also a freshness about the story with the diverse characters, hearty doses of sarcasm and the focus on strong family ties.
The chapter headings emulate religious doctrine, from the profound ('Thou shalt not drink and call') to the profane ('Thou shalt not trust a two-faced bitch'), while presenting a rather restrictive view of Catholicism. Spanish phrases pepper the text, reflecting Yami's Mexican-American background.
Be aware, the book deals with some potentially triggering subjects, including homophobia and suicidal ideation. The language and subject matter make it suitable for an older readership.
The Lesbiana's Guide to Catholic School will appeal to fans of Rainbow Rowell and Alice Osman.
Many thanks to Faber for the review copy.
---
If you like The Lesbiana's Guide to Catholic School by Sonora Reyes you might also like: our reviews of Scattered Showers by Rainbow Rowell, Everyone Dies Famous in a Small Town by Bonnie-Sue Hitchcock, Gwen and Art Are Not in Love by Lex Croucher, The Silver Chain, written and illustrated by Jion Sheibani, This Book Kills by Ravena Guron, You Think You Know Me by Ayaan Mohamud & Notes on my Family by Emily Critchley.
---
The Lesbiana's Guide to Catholic School by Sonora Reyes is featured in our list of best books coming out in summer 2023 | Browse our list of books for KS4