Gwen and Art Are Not in Love by Lex Croucher – at a glance
The School Reading Lists' five word review: Historical, medieval, LGBTQ+, romance, humour.
Children's book title: Gwen and Art Are Not in Love.
Children's author: Lex Croucher.
Genre: Historical romance.
Published by: Bloomsbury
ISBN: 9781526651792.
Recommended for children aged: 13+.
First published: Paperback May 2023.
This children's book is ideal for: KS3 & KS44 diverse reading lists.
---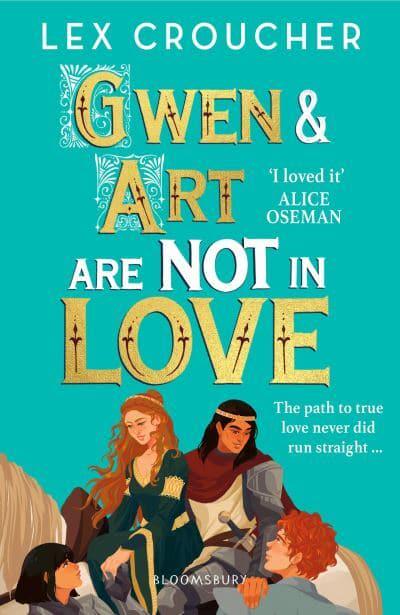 To see the latest price or order, click on the book cover image.
---
Our review:
Gwen is outspoken, quick witted and brilliant at chess. She is also Princess Gwendoline, the only daughter of the King of Camelot, descendent of one of the legendary Knights of the Round Table and betrothed since birth to Arthur, Lord of Maidvale and namesake to the legend himself.
Royal sons meant promise – they carried the hope and glory of their lineage however reluctantly; royal daughters were born to be promised to someone else.
While this lifelong betrothal is (slightly) better than an unexpected marriage to someone far older to ensure a political alliance, Gwen considers Art to be the devil incarnate. He tormented her relentlessly as a child and their years apart (after a 'prank' resulted in a broken wrist) has not softened Gwen's view of him.
When her parents decide that the forthcoming tournament season is the perfect time to stage the long-planned wedding, Gwen is horrified at having to spend time with her nemesis. The only comfort is that she will also be able to indulge in watching the jousting tournaments, particularly those featuring the realm's only Lady Knight, Lady Bridget Leclair, who has recently starred embarrassingly often in Gwen's dreams.
Relations between Gwen and Art remain frosty at best but when Gwen catches Art kissing one of the stable boys, she believes she has the perfect means to blackmail him out of their betrothal. However when Art retaliates by stealing Gwen's diary, with its not-so-secret references to a certain Lady Knight, the stage is set for mutual destruction. The situation is made even more complicated by Art's growing closeness to Gwen's brother (and the heir to the throne) Gabriel.
Gwen and Art reluctantly enter into an uncomfortable truce to protect the illusion of a planned marriage in order to secretly spend time with those they really love. As rumbles of uprisings from those who follow the old Arthurian legends abound, they are forced to decide who they can really trust and what sacrifices must be made for both their own happiness and the future of the kingdom.
'Glad this all has a happy ending. If we're lucky, some insurgents will rise up and kill us all in our beds before we have to say "I do".'
'Don't give me hope,' said Gwendoline. 'It'll only make reality all the more crushing.'
Gwen and Art Are Not in Love is a fast paced, funny, historical romance, with strong LGBTQ+ characters and touching sibling relationships. Told from their alternating points of view, Gwen and Art are strong protagonists, faced with very modern problems in a medieval world.
The historical details bring the story to life and allusions to the tales of the original King Arthur and his knights are appealing. There are the usual medieval tropes – knights and princesses, flirty ladies in waiting, jousting, even a legendary sword in the stone (technically Excalibur Nine, the previous incarnations having been lost or stolen down the years). There's also modern language, political intrigue and a hearty dose of sarcasm.
Gwen and Art Are Not in Love is non-binary author's Lex Croucher (they/them) YA debut, having previously written adult romcoms. They bring a welcome breath of fresh air to the genre with this diverse tale of reluctant allies and the search for self-acceptance in a polarised world.
Gwen and Art Are Not in Love is an engaging read that will appeal to fans of Rainbow Rowell and Alice Oseman who are looking to stretch their reading tastes into the realms of historical fiction.
Many thanks to Bloomsbury for the review copy.
---
If you like Gwen and Art Are Not in Love by Lex Croucher you might also like: our reviews of Scattered Showers by Rainbow Rowell, The Sister Who Ate Her Brothers by Jen Campbell, Everyone Dies Famous in a Small Town by Bonnie-Sue Hitchcock, Challenge Everything by Blue Sandford and Taylor Before and After by Jennie Englund.
---
Browse our list of books for secondary school students.