Taylor Before and After – at a glance
The School Reading Lists' five word review: Clever, moving, real and useful.
Children's book title: Taylor Before and After.
Children's author: Jennie Englund.
Genre: Middle Grade / YA fiction.
Illustrated by: Carolyn Bull and Rachel Suggs.
Published by: Imprint.
ISBN: 9781250171870
Recommended for children aged: 10-16.
First published: Hardback July 2020.
This children's book is ideal for: Teens in Years 8-11.
---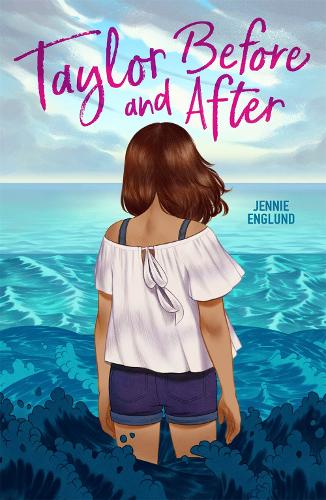 To see the latest price or order, click on the book cover image.
---
Our review:
Taylor Before and After is a page-turning and vivid series of snapshots that thrust the reader into eighth-grader Taylor's life.  The story focusses on themes of friends, enemies, and people you can't quite decide whether or not to trust. The text is easy on the eye and will captivate older children and young adults from Year 8 (12-year-olds) upwards. The lifelike and highly relevant portrayals of bullying, loneliness, and depression will resonate not just with secondary school pupils, but also educators.
The storytelling is original and impactful. The pivotal moment of Taylor's life is drawn from her perspective, in journal entries that flit between her accounts before a life-defining incident and her painful experiences afterwards. The idea that another family member's actions can have such monumental knock-on effects on Taylor's life – is a powerful and provoking one – and ripe for discussion and further thought. In a moment, Taylor's brother causes her life to turn upside-down, in ways she cannot possibly predict or deal with, and seeing the consequences of this through the diarised kaleidoscope of time makes this story memorable.
The novel is also a reminder of what matters to teens – ego, popularity, security, friendship, trust, and mental health – in a world that often only offers a tenuous grip on such ideas and instead can seem to revolve around social media, fake news, gaslighting bluff, and spin.
Taylor Before and After explores the turmoil experienced by teens in a way that will captivate not just YA readers, but their teachers, parents, and younger siblings. It's perfect to read in one sitting during the summer holiday and ideal for book club discussion when schools return.
Using Taylor Before and After in the classroom
A great choice for a novel study or reading in class with Years 8-11 pupils.
The interesting storytelling style and format – bilocating the reader between autumn and winter, before and after; and ending with the aftermath in spring – would be interesting to study in English lessons.
The sharp dialogue is great for exploring indirect characterisation – show rather than tell – in a prose style that will appeal to GCSE aged teens.
This book is a useful impetus for creative writing and one which will appeal to the age group. The journal-style treatment examining before and after a pivotal moment – real or imagined – could be replicated as a planning scaffold for pupils' writing or a long term home-learning project.
At the beginning of each chapter, there's a sentence marked "prompt". These are short and poignant – either quotes, single words, or short phrases; all of which provoke the reader. They also serve as a unique series of writing prompts that will facilitate discussion and could inspire teens for a personal project, or in creative writing classes. The book is worth buying for the writing prompts alone.
The technique of looking at how a situation arose, and how characters behaved and felt before and after, can be used to help reluctant readers analyse, compare, and contrast pivotal plot moments in other GCSE text or dramas – for example, Shakespeare or Dickens; or for facilitating discussion in PSHE.
As a text, Taylor Before and After will help pupils understand how a writer establishes empathy with characters, and how characters and events can be explored from different perspectives.
Our verdict
Jennie Englund's distinctive tone and writing style; combined with the issues raised in Taylor Before and After, will linger long after reading, making this a book likely to have a cult following amongst KS3/4 school library users over the next few years. Highly recommended.
If you like this book you might also like The Great Godden by Meg Rosoff, Toffee by Sarah Crossan, Harrow Lake by Kat Ellis, Speak by Laurie Halse Anderson, and Again Again by E Lockhart.
Many thanks to Jennie Englund for the review copy.
---
Why not have a look at our young adult summer reading suggestions for 2020 or our magazines for teenagers?
Please respect copyright and don't copy or reproduce our content. Sharing on social media or linking to our site's pages is fine. Thanks.