No Place for Monsters – at a glance
The School Reading Lists' five word review: Fast-paced, spooky, adventure, drama, danger.
Children's book title: No Place for Monsters.
Children's author: Kory Merritt.
Genre: Horror.
Published by: Chicken House Books.
ISBN: 9781913696085
Recommended for children aged: 8+ (10+ if prone to nightmares!)
First published: Paperback September 2022.
This children's book is ideal for: KS2 & KS3 horror fans.
---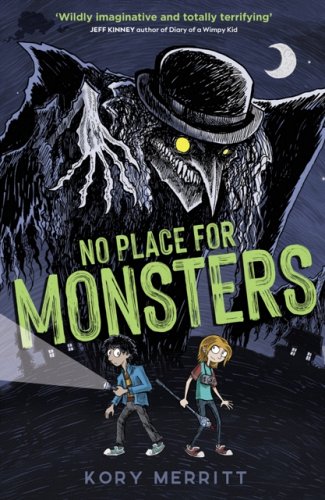 To see the latest price or order, click on the book cover image.
---
Our review:
Levi hasn't settled into his new home in Cowslip Grove. His little sister Twila is making friends and his Mum seems happy at her new job at the ice cream factory. But Levi is used to the bustle of the city and his new hometown seems a bit too quiet, with perfectly manicured lawns and overtly-attentive Neighborhood Watch. The only noise is the regular jingle of the ice cream truck…
"I don't get why people here mow their lawns so much … It's like everyone in town is scared nature is going to rise up and attack them."
When he's partnered with the exuberant Kat for a school project, Levi's quiet world suddenly becomes a bit too exciting. It seems that Cowslip Grove is hiding a dangerous secret – children are going missing at night from their beds and somehow Levi and Kat are the only people who notice.
Given that one of the missing children is the school bully, Levi isn't too concerned at first and dismisses Kat's theories of alien abductions. But when Twila is the next to disappear and his mum has no memory of her ever existing, Levi is forced into action.
Setting a trap for the rumoured monster, Levi and Kat instead find themselves becoming its next victims. Although they haven't been taken, everyone else's memories of them have. Their bedrooms are empty and they're strangers to their parents and teachers. It seems the only people who remember them are elderly Mr and Mrs Mushpit who live in an over-grown house, far from the orderly neatness of the rest of the town. If the Mushpits are to be believed, it's the very orderliness of the town that's created the monsters.
"The sense of safety and order is likely the very thing that drew the Boojum here … as soon as everyone's let down their guard, it swoops in to fill the power vacuum."
Aided by a very strange and not entirely trustworthy creature called Willow, who may or may not be the monster's spy, Kat and Levi must delve into the literal underbelly of their seemingly perfect town. But what do monsters and missing children have to do with the ice cream factory and can Kat and Levi get to Twila in time?
No place for monsters is a fast-paced spooky tale, perfect for readers who want to move beyond the Goosebumps series. The monsters are satisfactorily gruesome and the action-packed plot will grab and maintain the attention of even reluctant readers. The book is lavishly illustrated, with some chapters consisting entirely of images in a graphic-novel format.
The subtext of the potential danger in trying to control nature is cleverly integrated into the monster plot and the ending is satisfying without being too neat. No place for monsters is a perfect Halloween read for children who are not entirely convinced that monsters under the bed are all in their imagination.
But beware – you may want to steer clear of ice cream vans after reading this…
Many thanks to Chicken House Books for the review copy. No Place for Monsters by Kory Merritt is featured in our September 2022 book club picks and series 1, episode 2 of our podcast.
---
If you like No Place for Monsters by Kory Merritt you might also like: our reviews of Stone by Finbar Hawkins, Rita Wong and the Jade Mask by Mark Jones, The Sister Who Ate Her Brothers by Jen Campbell, The Ash House by Angharad Walker and Robin Hood – Piracy, Paintballs and Zebras by Robert Muchamore.
---
Browse our list of graphic novels for 7-11 year olds.