Stone – at a glance
The School Reading Lists' five word review: mysterious, mythological, gothic, fantasy, drama.
YA book title: Stone.
YA author: Finbar Hawkins.
Genre: Eco fantasy.
Published by: Zephyr an imprint of Head of Zeus.
ISBN: 9781838935641
Recommended for children aged: 12+
First published: Hardback September 2022.
This children's book is ideal for: KS3 & KS4 fantasy fans.
---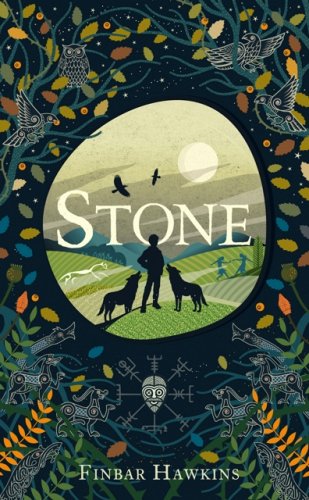 To see the latest price or order, click on the book cover image.
---
Our review:
17-year-old Sam is not coping well with his Dad's death. Killed while serving in Afghanistan, his father was more at home in the woods and hills around their Wiltshire village, sharing tales of Nordic gods and the legends surrounding the famous chalk White Horse with his son.
Haunted by his last angry words to his father, Sam tries to escape his family's grief by attending a friend's party. It's there that he first meets the mysterious Oona. A newcomer to their small village, she immediately captures Sam's attention with her affinity for tarot readings.
After struggling through the funeral, Sam seeks solace on the hills where he stumbles across a mysterious white stone, icy cold and flecked with silver sparkles. Upon touching it, Sam's convinced he hears his Dad's voice calling to him. Even stranger, he then starts to see visions of girls dancing on the hillside and of himself soaring through the air like an owl.
"A scrying stone … The witches used them in their magick … to tell the future, to read the past … to open other worlds."
Convinced the visions are just a manifestation of his grief, Sam returns to school and tries to block out his loss. Things soon start to spiral out of control, however. When jealousy over Oona prompts a classroom row, touching the stone brings on more visions and out-of-character behaviour including fighting and joyriding.
While delving into local legends with Oona, Sam also reluctantly accepts his Mum's request to see a therapist. It's fellow patient Bill who is able to connect with Sam the most though, sharing his sense of loss and wish for second chances.
As Halloween approaches, Sam's visions become more frequent and engrossing and he becomes convinced that, somehow, he will see his Dad again…
"The stone has carved you a door between myth and memory …
And Samhain is when it opens …"
By the author of the Carnegie medal-nominated Witch, and serving as a lightly-linked companion story, Stone is an intriguing mix of mythology and teenage angst. Sam's grief and guilt over his Dad's death are realistically combined with his budding relationship with Oona. The positive depictions of therapy give a welcome nod to the importance of mental health and the inter-generational friendship between Sam and Bill is refreshing. There is also a key role to play for the extremely well-stocked school library!
Although not as action-packed as some young adult novels, patient readers will be rewarded with a rich weaving of myths and folk tales ranging from Hades and the underworld to legends of the Green Man and Samhain (Halloween). The inclusion of tarot card illustrations, Norse symbols and leaf patterns intertwine the practical and mythical elements of the story and give the book a unique visual quality.
Stone is a rewarding read that is likely to appeal to fans of Sally Nicholls' Season of Secrets and Patrick Ness' A Monster Calls.
Many thanks to Head of Zeus for the review copy. Stone by Finbar Hawkins is our fiction book of the month for September 2022. 
---
If you like Stone by Finbar Hawkins you might also like: our reviews of Unraveller by Frances Hardinge, Once Upon a Fever by Angharad Walker, When Shadows Fall by Sita Brahmachari, Everyone Dies Famous in a Small Town by Bonnie-Sue Hitchcock and our picks of the best new books coming out in autumn 2022.
---
Browse our list of graphic novels for 12-16 year olds