Robin Hood – Piracy, Paintballs and Zebras – at a glance
The School Reading Lists' five word review: Fast, adventure, gangster, hacking, fun.
Children's book title: Robin Hood – Piracy, Paintballs and Zebras.
Children's author: Robert Muchamore.
Genre: Middle-grade fiction.
Published by: Hot Key Books.
ISBN: 9781471409479
Recommended for children aged: 10-14.
First published: Paperback January 2021.
This children's book is ideal for: 10-13 year old independent readers.
---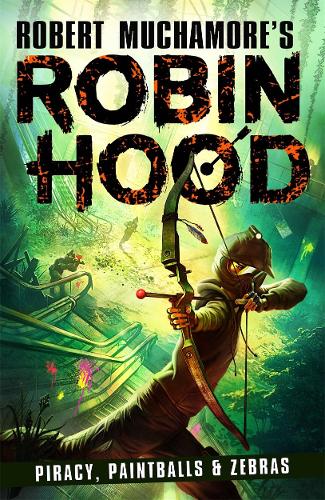 To see the latest price or order, click on the book cover image.
---
Our review:
Here is a book that will be read and re-read again and again. Why? Because Robin Hood is the very embodiment of all that is fine and noble in mankind
This is how the inside cover notes of my 1960, Dean's Classics, edition of 'Robin Hood and his Merrie Men' describes the exploits of Robin, Little John, Will Scarlett and Friar Tuck. Things were more simple in 1960 – Robin and his men are heroes, and the Sheriff of Nottingham – intent upon oppressing the downtrodden peasants under orders from Prince John – is the baddie. Interestingly, there is no mention of Maid Marion until well into the stories.
Fast forward 60 years and Robert Muchamore is a highly successful author of books whose bestselling formula is based upon skilfully writing novels that he would have enjoyed reading as a teen – a time when he remembers being too old for children's stories but not old enough to read adult novels.
The Guardian described Robin Hood – Hacking, Heists and Flaming Arrows, published in 2020, as "Intensely readable with outrageously enjoyable action", and his latest, Robin Hood: Piracy, Paintballs and Zebras, is also a wonderful read.
It is a time of strife in Sherwood Forest, a region of England stretching from Lake Victoria in the west to the swampy Eastern Delta. Twenty thousand square kilometres, inhabited by bears, snakes and humans – "most of them hiding from something. Bandits, bikers, religious cults, terrorists, refugees and one twelve-year-old boy with a £100,000 bounty on his head" – yes, that's our robbin' Robin!
The forest is controlled by an 'uneasy alliance' between the gangster Guy of Gisborne, "who has the declining industrial town of Locksley under his thumb, controlling everything from petty drug deals to senior police and judges" and the Sheriff of Nottingham, Marjorie Kovacevic, "an ambitious Sheriff who has an army of private guards who'll deal brutally with anyone who gets in her way".
With Robin's mother dead and his father in prison, Robin lives in an outlaw community in a huge H-shaped abandoned designer outlet shopping mall. His tribe is now the good folks of Sherwood. Will Scarlock is his main protector and the chaotically entertaining family of his best friend, Marion Maid, provide him with support. Robin's birth town of Locksley is eight kilometres from the mall and light-years away from the leafy glens and glades of my 1960 Dean's Classic Robin Hood.
Our 2020 Robin is a computer hacking expert with a strong moral code that leads him into several adventures involving – yes, you've guessed it – piracy, paintballs and zebras.
Robert Muchamore is a master at keeping the action moving at a breakneck pace. He describes incidents that will resonate with 10-13 year-olds. I loved the description of the attempt to hack into a cash machine and his work with the Sherwood Forest's Animal Freedom Militia activists involves Robin in serious, high-level hacking.
There are many references to important global issues such as climate change, unequal distribution of wealth, dubious political links with corporate business and feminism, all of which add weight to the opinion that this is an author that cares about guiding young readers through 2021's moral maze.
Genuine relationships with adults and his peers are important to Robin and false friends are quickly revealed. A few of the quieter moments of the book are excellent, for example when Robin and Marion help to repair the roof of the mall under the guidance of Unai 'the roofer'. Robin also demonstrates that he has the same archery skills as his twelfth-century counterpart as he fires off his carbon fibre arrows and kills a few rats, much to Marion's horror.
KS3 readers will love this book. At this age, I used to fall asleep imagining that I was the hero of exciting, romantic, derring-do situations and this is just the same drink in a very modern bottle. Robert Muchamore's next Robin Hood adventure will involve Jet Skis, Swamps and Smugglers and I'm sure it will also be a huge success.
Let's allow Robin the final word:
"Hello. I'm Robin Hood, and I'm about to kick some butt!"
Many thanks to Hot Key Books for the review copy.
If you like Robin Hood – Piracy, Paintballs and Zebras by Robert Muchamore you might also like: Archibald Lox by Darren Shan, Another Twist in the Tale by Catherine Bruton, Adventure in Athens by Caroline Lawrence, Emily Windsnap and the Pirate Prince by Liz Kessler, Travel locations and holiday destinations inspired by children's books, and our list of recommended books for KS3.
---
Browse more books for KS3 or magazines for children?