The Sister Who Ate Her Brothers – at a glance
The School Reading Lists' five word review: deliciously dark, provocative, modern & relevant.
Children's book title: The Sister Who Ate Her Brothers and Other Gruesome Tales.
Children's author: Jen Campbell.
Children's illustrator: Adam de Souza.
Genre: Middle grade illustrated short stories.
Published by: Thames & Hudson
ISBN: 9780500652589
Recommended for children aged: 10+.
First published: Hardback October 2021.
This children's book is ideal for: reading at Halloween & discussion and analysis in year 6.
---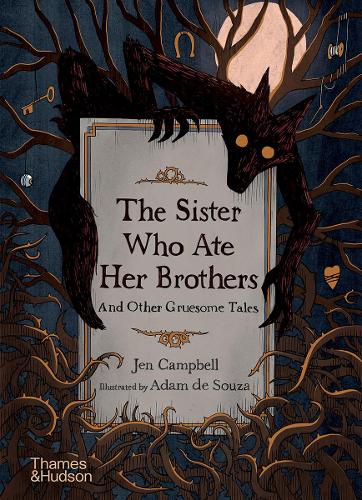 To see the latest price or order, click on the book cover image.
---
Our review:
These are not saccharine, happy, good triumphs over evil, happily ever after, warm fuzzy bedtime stories. No, these fairy tales hark back to the original folklore tales that sought to teach children life lessons, sometimes harsh, sometimes with shock value, but always with a well-intentioned moral compass. Think Grimm's tales told with a splash of Roald Dahl from a world turned upside-down. Despite being rooted in history and oral traditions, these stories are peculiarly modern and relevant.
Jen Campbell shows us that the fairy tales we all think we know today vary tremendously depending on where in the world they were being told. Adjusted for the audience, and for the parable purpose, one fairy tale is often not told the same way twice, for the same reason, or with the same outcome.
With deliciously dark illustrations by Adam de Souza and provocative titles such as 'The Man Who Hunted Children' this collection will appeal to years children in years five and six who prefer stories with danger, excitement and mystery.
Carefully tracing these tales back to their distinct regional versions, Jen Campbell includes a traditional South African version of Hansel and Gretel, a strange tale of engagement traced to China in 850 AD, and a modern variation of The Boy Who Had an Eating Match with a Troll from Norway.
For teachers in KS2, these stories offer a myriad of discussion points for the classroom and reading groups.
Firstly, children can look at how and why these fairytale stories differ from the typical traditional tales they already know. What was the purpose of each tale, what was it trying to teach, and whether would it have been successful, might be some questions to consider.
There are also opportunities for research, independent study and looking at these traditional tales in greater depth. Children – with support or using the internet – can see if they can work out from which traditional fairy tales these stories originate.
This could be extended to looking up versions of each story throughout history and comparing them to the stories presented in this collection. Pupils could analyse the differences, similarities, and changes in character portrayal and tone.
This collection of short stories is also interesting in the way that it celebrates characters with disfigurements, differences and disabilities.
Commonly, and particularly in film and 20th-century children's stories, the villain has a scar or a mark, shady characters speak with foreign accents or impediments and evil is presented as someone who isn't like us.
These stories turn the tables on the tropes and show that it's the actions and intentions that define the character – an invaluable life hack for children to remember.
For high-achieving UKS2 pupils, there's the possibility of using these stories as an impetus for children to redevelop existing fairytales, and explore how they might adjust them and rewrite them to deal with issues pertinent to their lives and experiences.
Our verdict – if you want a Halloween-themed book club reading, an atmospheric KS2 storytime in your forest school, a book to be shared by torchlight (there's even a gold ribbon page marker to flicker in the shadows), or perhaps rich ideas and imagery for literacy teaching or a cross-curricular art display – The Sister Who Ate Her Brothers is a perfectly enticing story collection.
Many thanks to Thames & Hudson for the review copy.
If you like The Sister Who Ate Her Brothers by Jen Campbell you might also like: our Autumn term 2021 season preview, The Ash House by Angharad Walker, Song of the Far Isles by Nicholas Bowling, The Pearl in the Ice by Cathryn Constable, White Fox in the Forest by Chen Jiatong and The Marvellous Land of Snergs by Veronica Cossanteli
---
Have a look at our list of children's and teen books for Halloween