A Head Full of Magic by Sarah Morrell – at a glance
The School Reading Lists' five word review: Family, magic, animals, bullying, bravery.
Children's book title: A Head Full of Magic.
Children's author: Sarah Morrell.
Genre: Fantasy.
Published by: Hashtag Press.
ISBN: 9781913835156.
Recommended for children aged: 9+ year-olds.
First published: Paperback April 2023.
This children's book is ideal for: KS2 animal lovers.
---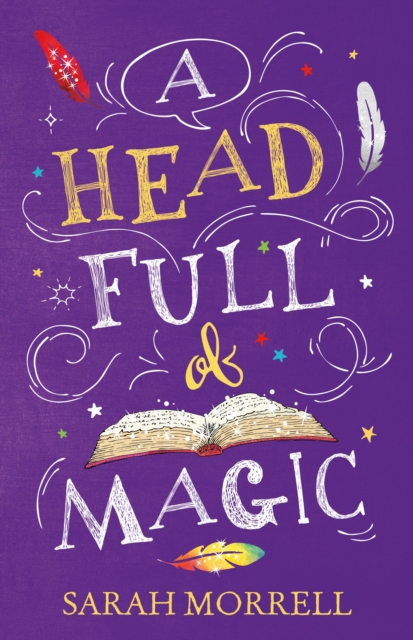 To see the latest price or order, click on the book cover image.
---
Our review:
Life has been pretty complicated for ten-year-old Fleur lately. Her beloved Grandpa died which prompted her Dad to leave home to 'clear his head'. She's recently been dumped by her former best friends Ruby and Anais in favour of nasty hockey-star new girl Celeste 'The Best'. Her mum is trying (unsuccessfully) to support her West Indian heritage with some truly terrible cooking. And her Nan's parrot has started talking to her.
People talk to their pets all the time, the difference being they don't usually talk back.
It wouldn't be too bad if he just sprouted the normal 'who's a pretty boy' phrases. But for a bird with the high-class name of Sir Barclay Wigbert Titus Smythe, the conversation revolves around chess moves and (admittedly justified) insults about her mum's cooking.
"Squawk! You're very quiet. Did you think I was all in your head? Sorry to disappoint you. Squawk!"
At the risk of being laughed at, Fleur reluctantly confesses her apparent new ability to her Nan. Thankfully it turns out she isn't going mad – both Fleur and her Nan are Hexters – people with specific types of magic. While her Nan has the ability to fly (or 'bluster' as Sir Barclay describes it), Fleur herself is an Animalator – she can talk to animals.
The problem is, once she's started to hear them, she can't stop. From magpies looking for food to ants worried about being trodden on, Fleur's world is suddenly a noisy and confusing place. Even worse, her startled reactions to these voices that no one else can hear, make for prime bullying material for Celeste and her cronies.
With her nan's help, Fleur must learn to harness her new-found power to help Sir Barclay reunite with his wife – Dame Genevieve Monroe Ophelia Smythe, also known as Jenny Jen. And in the process, Fleur might just be able to help herself too.
"Don't ignore what's going on in your mind because your true gifts will only shine through when you face your biggest fears".
A Head Full of Magic is a story about embracing your differences, standing up to bullies and being true to yourself. Fleur's dual heritage is sensitively woven into the narrative, along with her strong family relationships. The bullying and friendship difficulties that Fleur faces help to ground the tale, while the magical elements give a welcome dose of escapism.
This is a positive, fun read that will particularly appeal to those who, like Fleur, are approaching the end of primary school and facing their own life changes.
A Head Full of Magic is a sensitive tale that will appeal to fans of Jacqueline Wilson and Cathy Cassidy.
Many thanks to Hashtag Press for the review copy.
---
If you like A Head Full of Magic by Sarah Morrell you might also like: our reviews of The Thief of Farrowfell by Ravena Guron, The Magician's Map by Mikki Lish and Kelly Ngai, Corey's Rock by Sita Brahmachari, Xanthe & the Ruby Crown by Jasbinder Bilan, Rita Wong and the Jade Mask by Mark Jones & Antigua de Fortune of the High Seas by Anna Rainbow and Oli Hyatt.
---
Browse our list of books for year 6.