Corey's Rock by Sita Brahmachari – at a glance
The School Reading Lists' five word review: Family, friendship, magic, grief, healing.
Children's book title: Corey's Rock.
Children's author: Sita Brahmachari.
Children's illustrator: Jane Ray.
Genre: Family adventure.
Published by: Otter-Barry Books
ISBN: 9781913074159.
Recommended for children aged: 9+.
First published: Hardback 2018.
This edition published: Paperback February 2023.
This children's book is ideal for: Upper KS2/Lower KS3.
---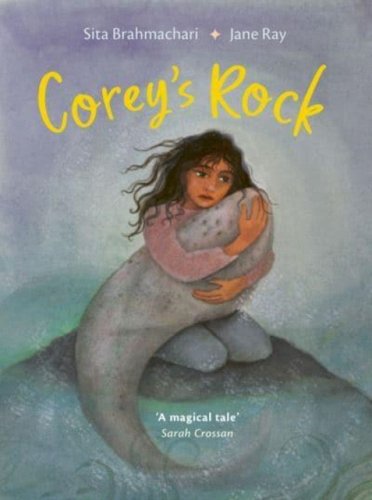 To see the latest price or order, click on the book cover image.
---
Our review:
Ten-year-old Isla and her parents move from Edinburgh to her mum's childhood home on Orkney, following the tragic death of Isla's five-year-old brother Corey. It is meant to be a new start and a chance for the family to heal.
We stand on the grey rock
of our new home…
"Time to say goodbye," Mum says.
She hands me petals, and more to dad.
We raise our hands to scatter them across the sea …
"We'll call this Corey's rock," Dad says.
But grief still surrounds the family and blurs the distinction between myth and reality.
When news reports show refugee children washed up on the beach like seals, Isla starts to have vivid dreams about the Selkie legend, of seals turning human and returning to their loved ones.
'Wrap yourself in Selkie skin
Listen to the call within.'
With her parents starting new jobs, Isla must begin again at a new school. Used to multi-cultural Edinburgh, Isla dislikes having to explain to her new classmates that neither she nor her dad is from Africa, that she's never even been there.
New friend Magnus is more understanding and the kind librarian helps Isla to learn more about Selkies and Orkney island legends, with surprising links to her grandparents' Nigerian heritage
Isla's dreams grow more vivid as refugee stories mingle with memories from Corey's time in the hospital and the Selkie legends of temporary rebirth.
The scars are all gone now. The boy turns and all that is left is Corey's eyes. I reach for him and he leaps from the rock in a wide proud arch.
I watch the ripples on the flat water.

Gradually the magic of the island – through its people, nature and legends – helps Isla and her parents find acceptance and a way to move forward in their new lives.

I have this feeling wrapped around us all, that I haven't felt for so long.
Happiness.
Corey's Rock is a lyrical, beautifully illustrated tale of love and loss. The poetic text is simple and impactful, telling a story of healing and hope that will resonate with young readers who have lost someone they love. The short, accessible nature of the book will appeal to a wide readership and its message of hope and rebirth will provide much to discuss.
Sita Brahmachari won the Waterstones Book Prize for her debut novel Artichoke Hearts. Many of her subsequent novels, including Corey's Rock, have been endorsed by Amnesty International for 'illuminating the human rights values of family, friends, home, safety and refuge'.
Corey's Rock is a moving, magical tale that will appeal to fans of Sarah Crossan and Kiran Millwood Hargrave.
Many thanks to Otter-Barry Books for the review copy.
---
If you like Corey's Rock by Sita Brahmachari you might also like: our reviews of When Shadows Fall by Sita Brahmachari, Xanthe & the Ruby Crown by Jasbinder Bilan, Song of the Far Isles by Nicholas Bowling, The Rescue of Ravenwood by Natasha Farrant, Stone by Finbar Hawkins and Unraveller by Frances Hardinge.
---
Browse our list of books for KS2