This Book Kills – at a glance
The School Reading Lists' five word review: Mystery, gripping, intrigue, involving, who-done-it.
Children's book title: This Book Kills.
Children's author: Ravena Guron.
Genre: Crime.
Published by: Usborne.
ISBN: 9781803705415.
Recommended for children aged: 14+
First published: Paperback January 2023.
This children's book is ideal for: KS4 crime fans.
---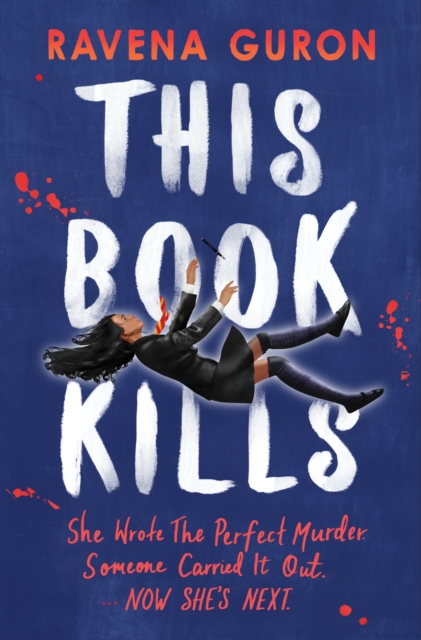 To see the latest price or order, click on the book cover image.
---
Our review:
Jess Choudhary has always tried to be on her best behaviour. As one of only two scholarship students at the prestigious Heybuckle boarding school, she knows that her position is precarious – one wrong move and she could be back in her old comprehensive and waving goodbye to the privileged future that graduating from Heybuckle offers. Avoiding the gossip and in-fighting of her classmates, Jess prefers to spend time with her best friend Clementine and immerse herself in crime novels.
Lately, however, Clem has been more focused on new love and minor royal Hugh Henry Van Boren. When Hugh's long-term relationship with Queen Bee Millie erupts, he and Clem are finally an official item, much to the disgust of Jess who cannot understand what her friend sees in the spoilt trust-fund football star.
"Let's get cracking with my tale of misery and woe."
The lovebirds' happiness is short-lived however as Hugh is found murdered on the school grounds. The rumour mill erupts with theories as to who could have killed one of the most popular pupils in the school.
At first, Jess sees her role as nothing more than providing comfort to the grieving Clem. However, she soon becomes more personally involved when the circumstances surrounding Hugh's death are revealed. He was killed in an exact manner that Jess described in a short story she recently wrote for the Gifted and Talented class – a story that was stolen before she could hand it in. After initially dismissing this as a coincidence, Jess can no longer deny her inadvertent involvement when she receives an anonymous text:
"Thanks for the inspiration. I couldn't have killed Hugh without you."
With the police seemingly at a loss, Jess is determined to uncover the killer's identity herself – to both console Clem and protect her own position in the school. But when enquiries among her classmates lead to more disturbing texts and veiled threats from the mysterious Regina Club, Jess begins to realise that she may not be just the killer's inspiration – she may be their next victim.
This Book Kills is a fast-paced, absorbing read that cleverly intertwines the detective and boarding school story tropes. There are dead ends, red herrings and untrustworthy characters, as well as prep, lacrosse practices and shared dorms. Jess is an engaging protagonist. Out of place amongst her rich classmates, she is determined to overcome her insecurities to prove herself worthy of her place at Heybuckle – and avoid a reputation as a killer's accomplice.
The reader is invited to join Jess as she tries to unravel the mystery of Hugh's murder, with pages set aside for notes towards the end of the book and a QR code to scan for a summary of Jess' investigations so far. Without spoiling the reveal, the denouement is satisfying and does justice to the plot.
This Book Kills would appeal to fans of Gossip Girl and Holly Jackson's A Good Girl's Guide to Murder.
Many thanks to Usborne for the review copy.
---
If you like This Book Kills by Ravena Guron you might also like: our reviews of The Silver Chain, written and illustrated by Jion Sheibani, Unraveller by Frances Hardinge, When Shadows Fall by Sita Brahmachari, Musical Truth by Jeffrey Boakye, Robin Hood – Piracy, Paintballs and Zebras by Robert Muchamore and Taylor Before and After by Jennie Englund.
---
Browse our list of Year 10 books.