Once Upon a Fever – at a glance
The School Reading Lists' five word review: imaginative, detailed, magical, absorbing, thought-provoking.
Children's book title: Once Upon A Fever.
YA author: Angharad Walker
Genre: Fantasy.
Published by: Chicken House Books.
ISBN: 9781912626984
Recommended for children aged: 12+
First published: Paperback July 2022.
This children's book is ideal for: KS3 & KS4 fantasy fans.
---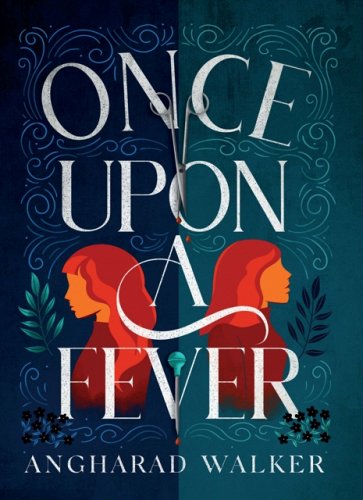 To see the latest price or order, click on the book cover image.
---
Our review:
Sisters Payton and Ani Darke live in King Jude's hospital where their father is a respected methic, treating patients of the Turn epidemic that causes feelings to manifest as illnesses. The girls' mother is in an induced coma as a result of a (literally) paralysing depression following a miscarriage. While both sisters are determined to find a cure, 13-year-old Payton believes this will be by following in her father's footsteps and becoming a methic herself, whereas her younger sister Ani is more open to traditional Wilder herbal remedies.
When the girls are separated and new allies and enemies emerge, they are forced to question their beliefs over what can and should be treated and whether the price of curing their mother might be too much to bear.
"Every emotion we feel alters our bodies. But when these emotions are thrown off balance – when we experience their extremes – disease takes hold."
Set in an alternative London, reminiscent of Lyra's Oxford, Angharad Walker's second novel will appeal to fans of Philip Pullman who relish diving into a world that is eerily like ours but where the magical differences jar in delightful ways.
The detail in Angharad's world-building is impressive, with carriages drawn by stags and fields of sunflowers that spit burning seeds at trespassers. The book is an intriguing mix of steampunk-esque Victoriana, with water-powered generators and orphans living in covered markets, and a dystopian, perhaps semi post-apocalyptic future where society is ruled by all-powerful Guilds and emotions must be cured.
Although lighter in setting than Angharad's first novel, this is perhaps also more thought-provoking, covering issues such as free will, abuses of power and parental loss. The book's argument that all emotions should be controlled, as their expression leads to potentially deadly illness, is one that is likely to resonate with teenagers struggling to handle hormonal fluctuations that can make them feel that their minds and bodies are not their own. Payton and Ani's journeys force them to consider whether feeling nothing at all is better than being overwhelmed by grief or anger.
"There's no cure for your feelings, Ani. Only ways of learning to live with them."
Written during the Covid-19 pandemic Once Upon a Fever is an interesting variation on the 'medics-as-heroes' trope, as the sisters discover that medicine may not in fact be the best cure and that power can corrupt even the best of healing intentions.
Once Upon a Fever is an absorbing read with well-developed and strong female characters, an immersive fantasy setting and a fast-paced plot. It is highly recommended for fans of intelligent dystopian fiction who like to be challenged in their expectations and assumptions.
Many thanks to Chicken House Books for the review copy.
---
If you like Once Upon a Fever by Angharad Walker you might also like: our reviews of When Shadows Fall by Sita Brahmachari, The Ash House by Angharad Walker, The Marvellous Land of Snergs by Veronica Cossanteli and By Rowan and Yew by Melissa Harrison. Once Upon a Fever by Angharad Walker is also featured in our July 2022 book club picks and in season 1, episode 1 of the School Reading List podcast.
---
Browse our list of books for KS3 students