Secret Sister by Sophie McKenzie – at a glance
The School Reading Lists' five word review: Deception, family, drama, sisters, loyalty.
Children's book title: Secret Sister.
Children's author: Sophie McKenzie.
Genre: Family thriller.
Published by: Simon & Schuster.
ISBN: 9781398523265.
Recommended for children aged: 11+ year-olds.
First published: Paperback July 2023.
This children's book is ideal for: Confident UKS2 & KS3 adventure fans.
---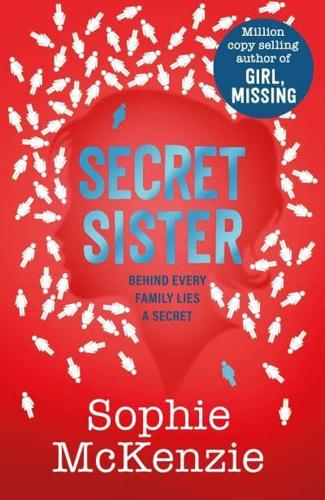 To see the latest price or order, click on the book cover image.
---
Our review:
Willow has always been told that her mum and twin sister Asha died in a car crash twelve years ago, just before the girls' second birthday. It's hard to miss people you don't even remember, and Willow is happily living with her Dad and step mum. Her dad may be rather on the over-protective side, with a location tracker on her phone and an insistence on driving her everywhere, but Willow knows it's just because he cares.
However, lately, she can't shake the feeling that someone is watching her. It's nothing very noticeable – just glimpses of someone ducking behind bushes when she turns around or odd flashes of colour out the corner of her eye. Her suspicions prove correct one day when a strange boy approaches her with the life-shattering news that Asha is still alive. And she needs Willow's help.
Asha has grown up completely unaware of her sister's existence. She lives in an isolated island community as part of a self-sufficient commune, built on the principles of truth and openness.
The whole point of life on the island is to live in harmony with nature, avoiding … the destructive technologies and the political-military-industrial complex that corrupts life elsewhere.
As her birthday approaches, Asha starts to discover that her life story is very different to the one she's always been told. Determined to find out the truth, Asha enlists fellow commune member Silas to help her track down the sister she never knew she had. The course is set for a dramatic reunion and the unravelling of over a decade of lies and family secrets.
"I'm going to get out of here and find Willow, if it's the last thing I do."
Told in alternating chapters from Willow and Asha's point of view, Secret Sister is a fast-paced family thriller, full of secrets and divided loyalties. Willow's apparently normal upbringing is in sharp contrast to Asha's commune life, especially when the cracks begin to show in the supposedly peaceful and harmonious community. The two girls are strong and independent, battling an adult world of restrictions and secrets in their quest to be reunited and finally learn the truth about their past.
Sophie McKenzie is the best-selling author of the Girl, Missing series and has a particular affinity for writing about complicated family relationships and both the joy and trauma they can bring. Characters from the 2022 World Book Day title Boy Missing appear in Secret Sister as Willow and Asha's cousins, providing a nice continuity for the author's fans, although the book can easily be read as a stand-alone title.
Secret Sister is a gripping thriller that will appeal to readers who enjoy, but are perhaps now ready to move on from, Jacqueline Wilson and Cathy Cassidy.
Many thanks to Simon & Schuster for the review copy.
If you visit author Sophie McKenzie's website, there's a free book – The Thief – to download.
---
If you like Secret Sister by Sophie McKenzie you might also like: our reviews of Corey's Rock by Sita Brahmachari, Xanthe & the Ruby Crown by Jasbinder Bilan, Nowhere Island by Tania Unsworth, This Book Kills by Ravena Guron, Stone by Finbar Hawkins and Once Upon a Fever by Angharad Walker.
---
Browse our list of books for year 7.