Ten Little Dogs – at a glance
The School Reading Lists' five word review: solid counting narrative encourages talking.
Children's book title: Ten Little Dogs.
Children's author: Ruth Brown.
Genre: counting picture book.
Published by: Scallywag Press.
ISBN: 9781912650538
Recommended for children aged: 2+
This edition published: April 2021.
This children's book is ideal for: reading with 2-3 year olds.
---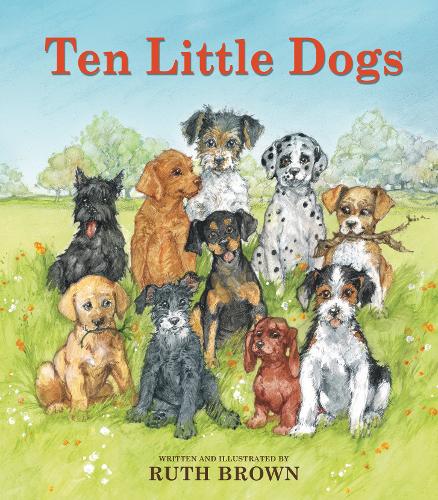 To see the latest price or order, click on the book cover image.
---
Our review:
I know someone who has recently bought a puppy. It's called Pablo. It scampers around, barks, whimpers, snaps at strangers, chews anything it can get its paws on, gobbles up any food it is offered … and sleeps.
Its careless exuberance reminds me of childhood, the last time we genuinely chuckle, or giggle, or spurt snot through our fingers trying not to laugh in class, while a stern teacher looks on.
Ruth Brown's joyful picture book captures all that spontaneous, energetic sense that life is a rushing stream of sensations, games and fun.
It is a perfect book for sitting down with a two- or three-year-old; each stage involves learning numbers and sequence, there's a solid narrative to follow and it encourages plenty of talking: why do they do what they do? can you think of names for the dogs, and how are their characters different?
The illustrations, also by Ruth Brown, reminded me of the authentic and accurate craftsmanship we used to find in the early Ladybird books.
Many thanks to Scallywag Press for the review copy.
If you like Ten Little Dogs by Ruth Brown you might also like: our collection of picture books to read before you are five, our list of books for reception, NO! said Rabbit by Marjoke Henrichs, Sock Story by CK Smouha, Build a Castle by Paul Farrell, Can You Whistle, Johanna? by Ulf Stark and Anna Höglund, and Million Dots by Sven Völker.
---
Browse more books for EYFS & KS1