All That It Ever Meant by Blessing Musariri – at a glance
The School Reading Lists' five word review: Grief, family, road trip, Zimbabwe.
Children's book title: All That It Ever Meant.
YA author: Blessing Musariri.
Genre: Family drama.
Published by: Zephyr Books.
ISBN: 9781035902477.
Recommended for children aged: 14+.
First published: Hardback November 2023.
This children's book is ideal for: Confident readers in KS4.
---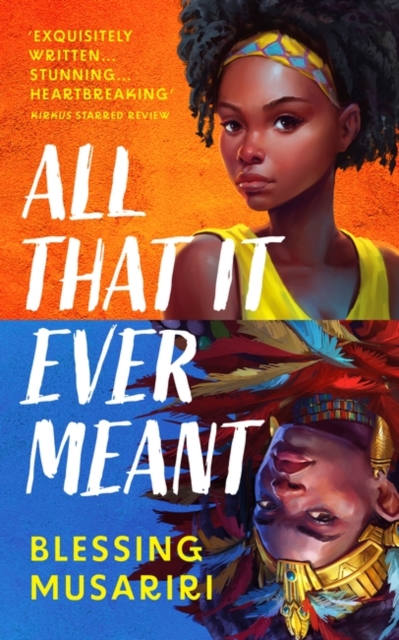 To see the latest price or order, click on the book cover image.
---
Our review:
Fourteen-year-old Mati is devasted by the sudden death of her beloved mother. She knew things hadn't been easy for her mother since she came to England from Zimbabwe. Attempts at assimilation led to her mother's over-spending and obsessive cleaning. Her death comes out of the blue and shatters the whole family.
When someone dies, it's the death of everything the way you knew it. The Death stains everything and there's no washing it out. I was struck dumb. Nothing was real anymore.
When their dad decides to take Mati and her brother and sister on a trip back to his childhood home in Zimbabwe, Mati hopes it might allow them all to start to heal and reconnect. What she doesn't expect is to be accompanied by Meticais – a strikingly dressed and rather grumpy gender-neutral companion, who only Mati appears able to see and talk to.
Meticais makes a very dramatic sigh, clanks the bangles around their wrist… They settle into the bottom of their dramatic huff and disappear.
Mati has always been the quiet one in the family, preferring to stay out of her siblings' fights and avoid causing any trouble. With Meticais, Mati finally has someone to confide in, someone who sees the real her.
As the family's journey takes them deeper into the Zimbabwean countryside, Mati shares more of her family's troubled history with Meticais and slowly begins to find her own path towards healing and acceptance.
Once I finish telling this story everything is going to change.
All That It Ever Meant is a unique road-trip novel of grief and cultural discovery. There is an air of magical realism to the tale. The reader is as unsure as Mati as to who or what Meticais really is – a ghost, an invisible friend born from trauma or an ancestor spirit guiding a broken family.
Themes of identity and finding your own path in life run throughout the book, as Mati goes on a deep inner journey as she travels across the evocative Zimbabwean countryside. The twist at the end of this short but compelling tale will have readers flicking back through the pages to spot the subtle signs.
All That It Ever Meant is a clever, heartfelt tale that will appeal to confident older readers and fans of Elizabeth Acevedo and Angie Thomas.
Many thanks to Zephyr Books for the review copy.
---
If you like All That It Ever Meant by Blessing Musariri you might also like: our reviews of Secret Sister by Sophie McKenzie, Sing If You Can't Dance by Alexia Casale, Crossing the Line by Tia Fisher, You Think You Know Me by Ayaan Mohamud, Once Upon a Fever by Angharad Walker and Everyone Dies Famous in a Small Town by Bonnie-Sue Hitchcock.
---
All That It Ever Meant by Blessing Musariri is featured in our books for Autumn term 2023 list.