A Bear Called Paddington by Michael Bond – at a glance
The School Reading Lists' five word review: Classic, family, adventure, London, charming.
Children's book title: A Bear Called Paddington.
Children's author: Michael Bond.
Children's illustrator: Peggy Fortnum.
Genre: Classic.
Published by: Harper Collins Children's Books
ISBN: 9781471414329.
Recommended for children aged: 5+.
First published: Hardback October 2023.
This YA book is ideal for: Readers of all ages.
---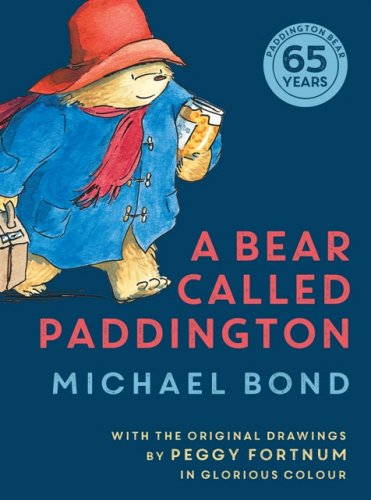 To see the latest price or order, click on the book cover image.
---
Our review:
Mr and Mrs Brown first met Paddington on a railway platform. In fact, that was how he came to have such an unusual name for a bear, for Paddington was the name of the station.
Paddington Bear has been a beloved British cultural icon for generations of readers. The first stories were published in the 1950s, inspired by a toy bear that author Michael Bond bought for his wife one Christmas and named after their local railway station. Now forever linked with her late majesty The Queen, the marmalade-loving bear from Darkest Peru is as charming today as ever.
Paddington was in a mess. Things hasn't gone at all according to plan.
This beautiful gift edition celebrates Paddington's 65th anniversary. The book features an introduction by the author and original colour illustrations by Peggy Fortnum alongside the original, unabridged Paddington story.
While waiting at Paddington Station to collect their daughter Judy from school, Mr and Mrs Brown make the acquaintance of a very unusual bear. Having reluctantly left his home in Peru when his Aunt Lucy had to go into a home, the little bear has been surviving on a diet of marmalade while stowing away in a lifeboat. Now rather incongruously sitting on the railway platform, he eagerly accepts the Brown's offer to come and live with them and gratefully accepts the name Paddington that his new family bestow on him.
"It's a very important name. And I don't expect there are many bears in the world called Paddington."
Life with the Brown family is full of new experiences for Paddington. There's the bath to get used to – preferably without flooding the house – exciting shops to visit, and new friends to make at the Portobello Road market, the theatre and the beach. Paddington soon feels right at home and the Browns can't imagine their life without their beloved furry little friend.
Please look after this bear…
This beautifully presented collection is the perfect introduction for young readers to the very polite but accident-prone little bear. The book will also delight older readers who may already be acquainted with Paddington through recent films or royal cameos and can now discover the original stories for themselves.
A Bear Called Paddington is a delightful collection that will appeal to readers of all ages and will be a particular delight for story time sessions.
Many thanks to Harper Collins Children's Books for the review copy.
---
To order a class set of this book, please click below to order via uk.bookshop.org, an organisation that supports local bookshops, or Amazon.co.uk.
Buy from UK.Bookshop.Org Buy from Amazon.co.uk
Disclosure: If you buy books using the buttons above: we may earn a commission from Bookshop.org, whose fees support independent bookshops; as an Amazon Associate schoolreadinglist.co.uk earns from qualifying purchases.
---
If you like A Bear Called Paddington by Michael Bond you might also like: our reviews of The Lion, the Witch and the Wardrobe by C.S. Lewis, An Anthology of Aesop's Animal Fables by Helen Ward, Old Possum's Book of Practical Cats by T.S. Eliot and Ten Little Dogs by Ruth Brown.
---
Browse our list of Christmas book gift ideas