Old Possum's Book of Practical Cats – at a glance
The School Reading Lists' five word review: lively, dramatic classic cat worlds.
Children's book title: Old Possum's Book of Practical Cats.
Children's author: T.S Eliot.
Genre: poetry.
Published by: Faber Children's
ISBN: 9780571346134
Recommended for children aged: 5-11.
This edition published: Hardback September 2021.
This children's book is ideal for: KS2 classroom libraries and reading aloud in literacy lessons.
---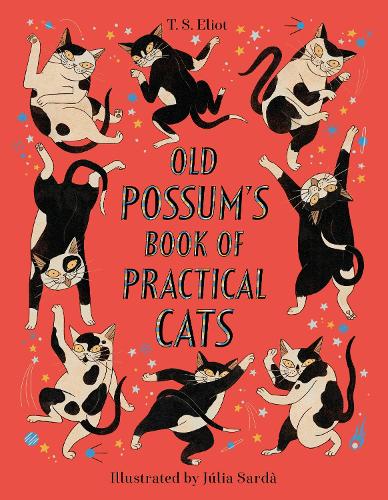 To see the latest price or order, click on the book cover image.
---
Our review:
Harry Enfield. Paul Whitehouse. Catherine Tate. Lenny Henry. Bob Dylan. T S Eliot.
What all these have in common is that they've created casts of distinctive eccentric characters who appeal to people of all ages.
Eliot is sometimes thought of as being a buttoned-up, aloof, difficult figure. But he loved dancing, acting, sailing, silly jokes, word-play and fantasy. He once told Stravinsky that he thought Edward Lear a great poet and even compared him with Mallarme. Look at the names of the people who inhabit his poems up to the end of 1922: J Alfred Prufrock, Mr Apollinax, Princess Volupine, Apeneck Sweeney, Madame Sosostris, Mr Eugenides, Phlebas the Phoenician. He owned a succession of cats with names like Pettipaws, Wiscus and George Pushdragon.
Since Old Possum was published in 1936, its strong rhythms and vivid imagery have appealed to and challenged illustrators, including Nicolas Bentley, Edward Gorey, Axel Sheffler and Rebecca Ashdown.

Julia Sarda's contribution to this long and illustrious list is superb. Her lively, dramatic versions of Eliot's cat-worlds will capture and sustain the interest of new readers and, for those already familiar with its charms, help confirm its status as a classic.
Faber has produced a sturdy, album-sized hardback, just right for sharing on the sofa with a younger member of the family. As Eliot's widow Valerie said to Andrew Lloyd Webber when he first discussed with her his plans for Cats, 'Tom would have loved it.'
This large-format illustrated book would be equally at home in KS2 classrooms, a primary school library, or as a standout Christmas present for children who enjoy cats and poetry.
Many thanks to Faber Children's for the review copy.
If you like Old Possum's Book of Practical Cats by T.S. Eliot you might also like: Poems the wind blew in by Karmelo C. Iribarren, On the Move Poems About Migration by Michael Rosen, The Head That Wears A Crown edited by Rachel Piercey and Emma Dai'an Wright, Ten Little Dogs by Ruth Brown, and our list of books for year 2.
---
Browse more books for Christmas presents