Books for Year 4. Browse hilarious stories, adventures, mysteries, terrifying tales, stories to fire the imagination and narrative non-fiction. Our list of recommended reads for 8-9-year-olds in Year 4 includes a variety of titles to appeal to children of all reading abilities, with contemporary and classic children's stories by S.F Said, Malorie Blackman, Morris Gleitzman, Cressida Cowell, Tola Okogwu, Gillian Cross, Jenny McLachlan, Kate Wilkinson, Matt Cherry, Roald Dahl and more.
As an Amazon Associate schoolreadinglist.co.uk earns from qualifying purchases.
---
Books for Year 4 – our recommendations
---
Click the buttons below to purchase all of the books in this Year 4 book list, as well as class sets of any of these books and many more, from Bookshop.org UK. Or buy the 20 most popular titles from this list from Amazon – ideal for gifts or your classroom library.
Buy from UK.Bookshop.Org Buy from Amazon.co.uk
Disclosure: If you buy books using the buttons above: we may earn a commission from Bookshop.org, whose fees support independent bookshops; as an Amazon Associate schoolreadinglist.co.uk earns from qualifying purchases.
Books for year 4 video
Below is a video containing all our Year 4 book ideas in a free-to-use 5-minute movie which can be displayed in schools, and used in assemblies, training courses, and staff meetings, as a link for home learning ideas and shared on social and professional networks.
How many Year 4 books have you read?
Here's a free background wallpaper of our recommended year 4 books list to use on your classroom computer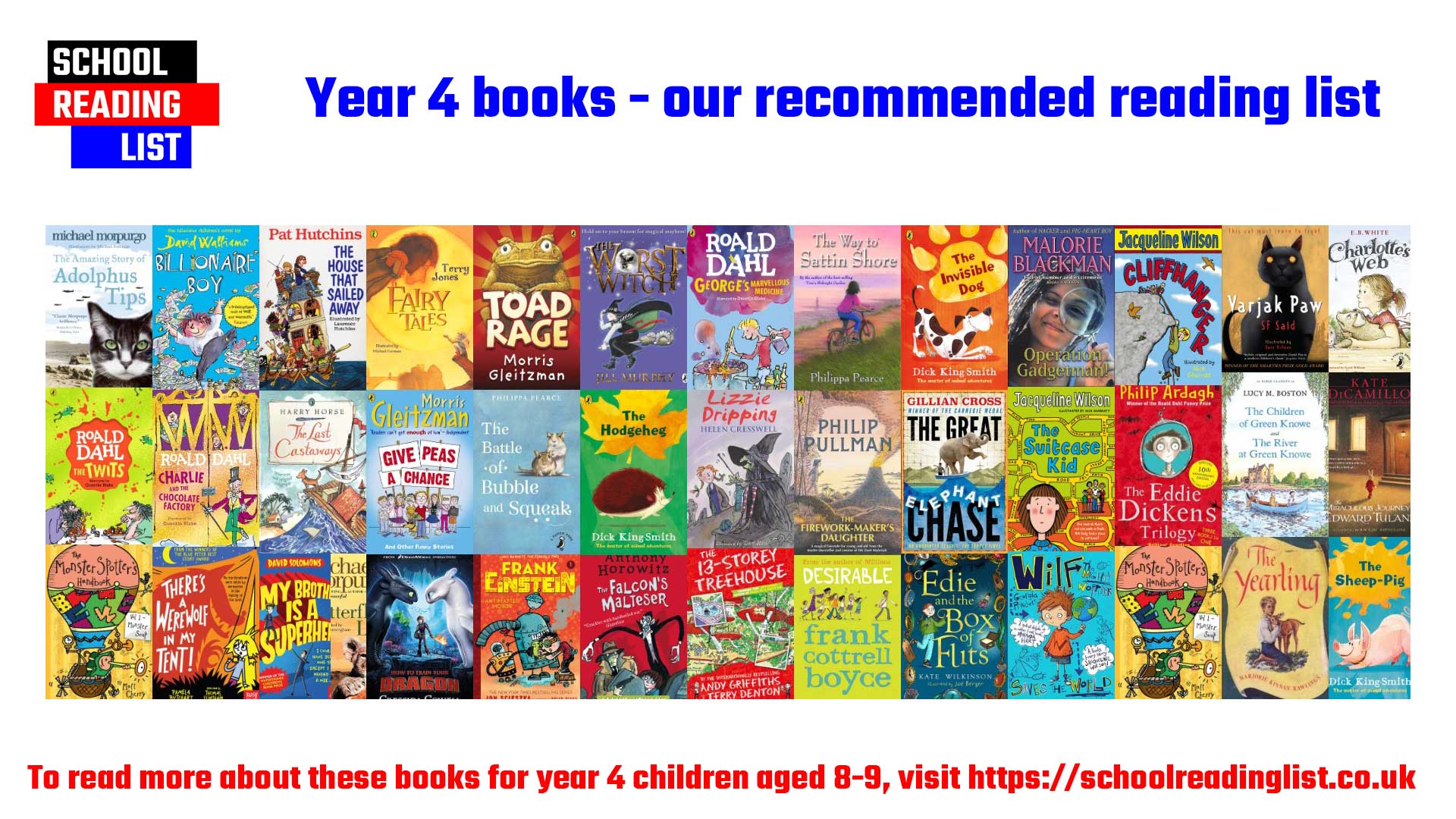 Schools & teachers: please respect copyright and don't copy our Year 4 book list. If you find our book recommendations useful, please consider sharing on social media or linking to this page instead. Thanks.
Books for Year 4 – what titles to recommend to children
In Year 4, it's advisable for children to engage with a diverse selection of books that cater to their evolving reading capabilities and interests. A balanced literary diet, incorporating both fiction and non-fiction genres, is crucial to stimulate imagination and encourage knowledge acquisition. Within the realm of fiction, consider exposing them to timeless stories that promote critical thinking. Historical fiction can offer a unique perspective on the past, while adventure tales contribute to the development of a sense of exploration. In the non-fiction realm, opt for materials that delve into scientific concepts or historical events, fostering a curiosity for the world around them. Personalizing book choices based on your child's preferences ensures a well-rounded reading experience, providing both entertainment and educational value.
How to pick books for year 4 children
Selecting appropriate books for Year 4 children involves a thoughtful approach that considers both their reading proficiency and individual interests. Firstly, assess their reading level to ensure the content aligns with their abilities, striking a balance between challenging and accessible. Explore genres to discover what resonates with them, be it mystery, fantasy, historical fiction, or non-fiction. Keep an eye on themes that might complement their current school curriculum or personal hobbies. Reviews and recommendations from reputable sources can guide your choices. Additionally, involving children in the selection process fosters a sense of autonomy and enthusiasm for reading. Regularly reassess their preferences as they evolve, ensuring a continuous engagement with literature that is both enjoyable and beneficial to their growth. Curating personalised reading lists for Year 4 students will prove beneficial.
What reading age is an average year 4 child?
In Year 4, the typical reading age for children ranges broadly, but on average, it is around 8 to 9 years old. However, it's important to note that children develop reading skills at different rates, and there is a considerable range of abilities within any given classroom. Some may read at an advanced level, while others may require additional support. Teachers often use a variety of assessments to gauge individual reading levels and tailor instruction accordingly. The focus during Year 4 is often on advancing comprehension, vocabulary, and fluency, laying a foundation for more complex literary analysis in subsequent years. Regular exposure to a variety of texts and genres supports the diverse needs of students at this stage.
How long should a Year 4 pupil read each day?
For Year 4 children, establishing a daily reading routine of about 20 to 30 minutes is generally recommended. This duration allows sufficient time for them to engage with texts, enhance reading skills, and foster a love for reading. However, it's crucial to consider individual preferences and attention spans. Some children may prefer shorter, more frequent reading sessions, while others might immerse themselves in a book for a longer stretch. The key is to make the reading experience enjoyable and tailored to the child's pace, encouraging a positive attitude toward books and learning. Teachers and parents can collaborate to create a supportive reading environment, offering a variety of age-appropriate materials to cater to diverse interests and abilities. A good Year 4 book list will really help with this.
---
Click for more children's reading book recommendations – Picture books to read before you are 5 years old | Reception books | Year 1 books | Year 2 books | Year 3 books | Year 4 books (this page) | Year 5 books | Year 6 books | Topic books, including history and geography stories | KS3 books
---
Why not have a look at our useful list of books to help instil diversity in your primary school?
For easier reads, try our Books for Year 3 reading list. For even more books for eight-year-olds, see this list.
For more advanced Year 4 reading books, have a look at our Books for Year 5 reading list.