How to Train Your Dragon 20th Anniversary Edition by Cressida Cowell – at a glance
The School Reading Lists' five word review: Vikings, dragons, adventure, fun, action.
Children's book title: How to Train Your Dragon.
Children's author: Cressida Cowell.
Genre: Adventure / Viking /Funny.
Published by: Hodder Children's.
ISBN: 9781444973006
Recommended for children aged: 8-11 year-olds.
First published: Hardback June 2023.
This children's book is ideal for: Children in KS2 who love absorbing book series.
---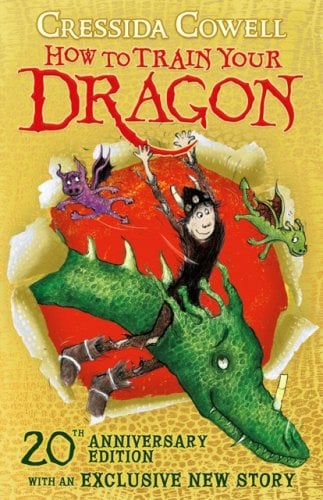 To see the latest price or order, click on the book cover image.
---
Our review:
In 20 years of teaching, one extract of How to Train Your Dragon in a comprehension exercise was the only time I remember children enjoying a reading test, and the only time I remember children going to the library after the test to search out the book. It's a rare and inspirational book that can leave children so enthused after an exam. And I remember one student in particular, a 'reluctant reader' according to his class teacher, who zipped through book one and was moved to write to Cressida Cowell in 2007 as part of a homework task. And Cressida Cowell wrote back! A reading convert, for him, picking a library book was never again a chore.
In this, the first of the series, Hiccup Horrendous Haddock the Third must lead ten novices through ten trials to join the Hairy Hooligan Viking tribe. Failure would mean banishment. Will Hiccup succeed? 7-11-year-olds will find out in this hilarious comedy adventure that's the perfect accompaniment for history topics in lower KS2.
In the 20 years since it was first published, the How To Train Your Dragon series has grown to 12 volumes with 14 million copies sold. There are also three blockbuster film, three TV series adaptations and more live action planned for 2025.
And to celebrate, Hachette has released a sumptuous sparkly golden cover hardback which includes beloved characters in a brand new story 'How To Train Your Hogfly', Hiccup Horrendous Haddock III's birth certificate, and some brand new, never before read about, dragons.
Inspired by Cressida Cowell's childhood holidays spent on a remote Scottish island with family tales of invaders, dragons and warring tribes, this book is perfect for adding imagination to your Vikings topic and using to spark creative writing ideas with KS2 students.
How to Train Your Dragon should be a cornerstone of any KS2 reading for pleasure drive. Part of a popular series, many children will become hooked and read them all. And it's not only a great option for whole class reading. How to Train Your Dragon by Cressida Cowell is ideal for guided reading and group reading and is featured in our list of recommended reading list for Year 4. Challenging yet fun – an ideal combination for a chapter book in Years 3&4 – it's also useful for support reading in Year 5.
A global publishing phenomenon, the How to Train Your Dragon series has received praise from all corners of children's literature, publishing and education. The Independent said, 'The adventures of Hiccup, the Heroes and the dragons raise big questions about courage, parent-child relationships, friendship, bullying, and particularly, what is truly valuable.' New Statesman added, 'This series is one of the greatest ever written for those between eight and 12.' And Philosophy Now recognised Cressida Cowell with an award for 'Contributions in the Fight Against Stupidity.'
Children's Laureate between 2019 and 2022, Cressida Cowell has sold more than 16 million books which have been translated into 42 languages. How to Train Your Dragon is one of those rare children's texts that every school needs a cupboard-sized set of for whole-class reading.
Many thanks to Hodder Children's for the review copy.
Resources for teachers:
---
How to Train Your Dragon 20th Anniversary Edition by Cressida Cowell you might also like: our reviews of My Family and Other Romans by Marie Basting, Rita's Rabbit by Laura Mucha and Hannah Peck, The Boy Who Dreamed of Dragons by Andy Shepherd, The Cartoons that Saved the World by Tom Ellen and Son of the Sea by Richard Pickard.
---
Browse our list of books for year 4.