Kofi and the Rap Battle Summer by Jeffrey Boakye – at a glance
The School Reading Lists' five word review: Friendship, family and navigating adolescence.
Children's book title: Kofi and the Rap Battle Summer.
Children's author: Jeffrey Boakye.
Genre: Comedy musical adventure.
Published by: Faber Children's.
ISBN: 9780571367344.
Recommended for children aged: 9-12 year olds.
First published: Paperback June 2023.
This children's book is ideal for: Children in years 5-7.
---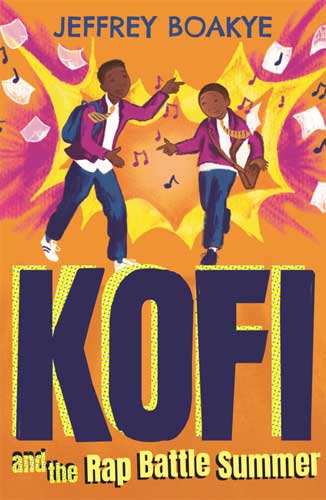 To see the latest price or order, click on the book cover image.
---
Our review:
Kofi and the Rap Battle Summer is a feel good tale of friendship, family and navigating adolescence. Set in the 1990's, when watching Gladiators was a family event and copies of Smash Hits magazine were passed round the playground, the story follows the escapades of eleven year old Kofi and his best friend Kelvin. Despite their obvious differences, the two boys share a love of words and find a way to turn this to their advantage. Kofi's family, including studious older brother Emmanuel, sassy sister Gloria and mysterious Uncle Delroy, are on hand to bail him out of trouble, and their interactions provide many laughs and several moments of real affection.
The first of the Kofi series of books, Rap Battle Summer beautifully captures the experience of growing up in the '90's. Adult readers will enjoy the cultural references, whilst younger readers will gain an insight into the kind of childhood their parents experienced before the existence of mobile phones and the internet. For readers of all ages, the depictions of everyday family life are entertaining and hugely relatable.
Kofi Mensah is a loveable character. Witty and bright, but often in trouble, he struggles to find a balance between doing as he pleases and doing the right thing. He wants to do well at school, but is thwarted by his desire to make money, as well as his inability to stop talking back to his teachers. School is both an obstacle and a means of carrying out his business schemes.
With Kelvin's photographic memory and gift for writing combined with Kofi's entrepreneurialism, the two friends realise that there is a gap in the market for a competitor to "dry" Smash Hits magazine. They set about transcribing ragga and hip-hop lyrics, along with Kelvin's razor sharp rap cusses, and Paper Jam, their new music magazine, is born. Along the way, they discover the power of words and their ability to wound, entertain and bring people together.
In this book, Jeffrey Boakye has created a world full of warmth and youthful optimism, which is occasionally shaken by the actions and prejudice of adults. But for every teacher or police officer who sees what they want to see, there is a nurturing parent who helps their child find a way through their problems. The anxieties around growing up and finding your place are perfectly captured in interactions with Kofi's sister Gloria and her friend Shanice.
'Shut up Kofi,' Gloria replied. 'And go kitchen and get me some crips, please'. She said things like 'crips' whenever she was trying to be super ghetto.
After Kofi goes to extreme – and hilarious – lengths to avoid a group of intimidating youths on his estate, he learns that appearances can sometimes be deceptive. There are some tense moments in the story, as there are for young people in real life, but these are skillfully balanced with moments of humour and tenderness.
Kofi and the Rap Battle Summer is a joyous read, filled with characters that you want to spend more time with. Happily for the reader, this is just the beginning of Kofi and his adventures.
Many thanks to Faber Children's for the review copy.
---
If you like Kofi and the Rap Battle Summer by Jeffrey Boakye you might also like: our reviews of Musical Truth by Jeffrey Boakye, Curse Breaker by Simon Tudhope, The Cartoons that Saved the World by Tom Ellen, Lori and Max and the Book Thieves by Catherine O'Flynn & Poems the wind blew in by Karmelo C. Iribarren.
---
Browse our list of books for KS2