The Marvellous Land of Snergs – at a glance
The School Reading Lists' five word review: joyful, funny, fantasy, courage & friendship.
Children's book title: The Marvellous Land of Snergs.
Children's author: Veronica Cossanteli.
Genre: Middle grade fiction.
Published by: Chicken House
ISBN: 9781911490609
Recommended for children aged: 8-11.
First published: Paperback November 2020.
This children's book is ideal for: children in years 3-6 who enjoy fantasy stories.
---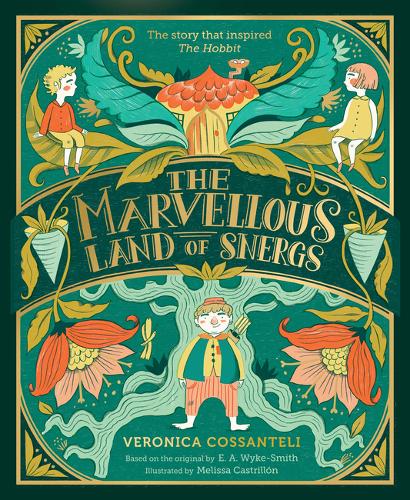 To see the latest price or order, click on the book cover image.
---
Our review:
Originally written by EA Wyke-Smith, this lost classic has been reinvigorated and updated for today's children by Veronica Cossanteli. An influential story when it was published in 1927, Hobbit author JRR Tolkien mentioned the Snergs in passing in correspondence with the poet WH Auden, and more specifically in the drafts of his 1947 essay "On Fairy-stories". He wrote:
"I should like to record my own love and my children's love of E. A. Wyke-Smith's Marvellous Land of Snergs, at any rate of the snerg-element of that tale, and of Gorbo the gem of dunderheads, jewel of a companion in an escapade."
This new retelling is unique in its style and imagination, with outlandish and spectacular characters and dastardly villains, set in a deliciously atmospheric landscape. When Pip and Flora find themselves in a spot of bother and run away from the 'Sunny Bay Home for Superfluous and Accidentally Parentless Children', only Gorbo the snerg can lead them home. But Gorbo can't quite remember where home is, and there are nasty purple Kelps to avoid along the way.
The picture is painted wonderfully and there's an easily found affinity with the colourful and comical characters and creatures, who draw the reader into their mysterious and magical adventures. Beautiful vivid imagery evokes a truly captivating landscape: a wonderful, inescapable escapism.
Pip and Flora's quest draws a joyful reminiscence of childhood imaginings and memories, from climbing trees and grazing knees to running away to woods filled with mystical creatures and every kind of pudding, pie and cake!
Heartwarming, laugh-out-loud, and poignant at times, The Marvellous Land of Snergs will appeal to children, adults and most definitely to any eternal child within.
This is a delightful fantasy, interwoven with values of courage, loyalty and the strength and love of true friendships. It is highly recommended for children in years 3-6 who want to become lost in an imaginative and transformative fairy tale.
Many thanks to Chicken House Books for the review copy.
If you enjoy The Marvellous Land of Snergs you might also like The Hobbit by JRR Tolkien, Archibald Lox by Darren Shan, The Pearl in the Ice by Cathryn Constable, The Boy Who Dreamed of Dragons by Andy Shepherd, and our collection of recommended books for key stage 2.
---
Browse more books for primary school children or magazines for children.
Please respect copyright and don't copy or reproduce our content. Sharing on social media or linking to our site's pages is fine. Thanks.